Did you know it was the plague of the 1880s, stemming from an overactive uterus?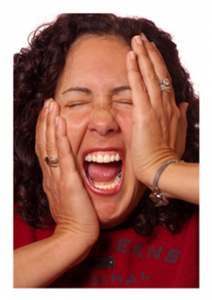 Thus is the condition "hysteria" described in one of the opening scenes of the 2011 film by that name, starring Hugh Dancy and Maggie Gyllenhaal.
Apparently more than half the women in London were suffering from this affliction, and as the story unfolds, anxiety (repressed sexuality) leads these women to seek medical assistance.
Their behavior is erratic. They raise their voices. They are… emotional.
And this is the story of the invention of the vibrator.
Emotional? Hysterical?
Have you been called "emotional" in the middle of a discussion – or an argument? Does the term feel hurled at you like a dismissive barb, tossed to distract as well as do damage?
In my experience, a woman showing anger is not well received. Admittedly, when I hear anyone yelling, it makes me uncomfortable. When a woman is yelling? Somehow, it seems worse.
Is that a matter of socialization? Because we still find it unacceptable for a woman to express this more violent emotion? But aren't we all emotional to varying degrees, each with our own triggers that may set us off?
What about hysterical? In my experience, it's a label that's used with more force – and derision.
As I think of the term, hysterical, I assume it to mean expressing seemingly irrational behaviors in a loud or obtrusive way. I think of rage and grief, not anger or restlessness or a bad mood, though the history of the condition suggests otherwise.
Searching out the definition on Dictionary.com, I find this:
– An uncontrollable outburst of emotion or fear, often characterized by irrationality, laughter, weeping, etc.; Psychoanalysis: a psychoneurotic disorder characterized by violent emotional outbreaks, disturbances of sensory and motor functions, and various abnormal effects due to autosuggestion; Psychiatry: conversion disorder.
I can't speak to the psychiatric definitions, but moments of uncontrollable emotion or fear have hit me following the unexpected death of a loved one, and certain instances triggered by divorce. In both those circumstances, the emotional reaction seems, well… normal, if you ask me.
Have you been called hysterical as a way to dismiss your feelings, your opinion, or you?
Do you resist expressing your emotions for fear of repercussions?
Are you afraid of the intensity of your own feelings – or what others will say, should you express them?
Imagine this. Up until the 1952, hysteria was still a medical diagnosis. Care to kiss your uterus (or your freedom) goodbye?
Good Vibes? Our Hero, Dr. Granville
"It's tedious, tiring work," says the elder doctor who welcomes the younger into his practice, one Dr. (Joseph) Mortimer Granville, as he explains in delicate language that discreet manual manipulation of female patients' gentle regions seems to result in calming them, though they must return for the treatment on a regular basis.
Hysteria is chronic, but this massage provides temporary relief.
In the film narrative, the young doctor (played by Dancy), his hand cramping up, eventually discovers the vibrator with the help of a friend who is a dabbler in all things electric. A modified feather duster seems to be up to the task.
In fact, history proves out this tale:
… Old treatments [for hysteria] included bed rest, binding, beating, purging, bloodletting, and, in worse cases, hysterectomy and/or clitoridectomy.

A kinder treatment evolved in the 19th century, when hysteria became a veritable epidemic… The doctor massaged the genitals until there was a healing convulsion and moist spasms (an orgasm by any other name), which relieved the patient for a while – until the next appointment.

Electric vibrators were developed in the mid 19th century to help the overworked doctors and ease the hysterical women…
Eh voilà… Sexual satisfaction delivered in a little box, the eventual evolution of a dangerous diagnosis, and the birth of an industry.
So why is it we're still called hysterical when we raise our voices, or express displeasure in a vociferous or passionate manner?
* * *
Pop by here for more on the inventor of the vibrator (Dr. Granville was, apparently, American). And note that for many years, this home-use device was marketed in the pages of popular women's catalogues like Sears and Roebuck.
You May Also Enjoy