Do you fight with your lover, with your husband, with your wife? Or do you go out of your way to avoid confrontation?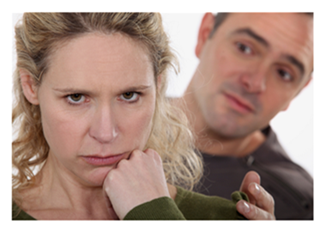 "No fighting," I'd say to my kids, if an argument broke out.
If the fracas escalated, I resorted to sending my little warriors to their respective spaces, which appealed to the Weary Mother, but did nothing to solve the source of the wrangling. We'll chalk this maternal move up to Sanity Saving. But is it a good idea, in general? Don't we all fight with the ones we love?
Shouldn't we learn how to fight effectively?
Who hasn't picked a fight over nothing? Who hasn't walked away from a dispute, when they should have stayed and hashed things out?
An Unusual Valentine Suggestion
An opinion piece in the New York Times offers an unusual Valentine suggestion to couples. It is a note, a sort of promissory note for future fights, with a commitment to:
… write about our next three fights, as though I were a neutral observer.
In other words, we admit that we'll have our spats, our off days, and our polarized positions. But in the spirit of accepting that conflict will arise, we can reduce the likelihood of "dirty fights" via this exercise.
Theoretically, by writing from an objective viewpoint after the fact, we might arrive at more rational discussions and fewer over-the-top (hurtful) arguments.
There's Fighting, and There's Fighting Fair
While the article offers some research in this area, specifically dealing with married couples, naturally, it comes with caveats. For example, interventions of this sort – assessing an argument as if a third party – won't stop the erosion of a union that is already rife with problems.
Personally, I like this idea, though the author recommends that as a Valentine, the promise "to turn fights into short-story workshops" may be sweeter if accompanied by a box of chocolates.
Yet reflecting on my own marriage, this exercise would not have worked as my ex and I rarely fought. Instead we avoided contentious subjects. Or, when a disagreement would arise, loathing confrontation, I typically backed down.
In considering other relationships, I've never been one to argue with a partner, though I certainly got into it with my kids a few times during their teenage years.
A Fair Fight Yields Lessons
Looking back, those fights were unpleasant, but generally speaking they were valuable in the end. Not only did we come to see each other as human, as vulnerable, as flexible – we listened. When appropriate (for example, after jumping to conclusions or yelling), apologies followed.
I understood more about the whys and wherefores of what they were doing (or wanted to do); ultimately, exchange of points of view resulted.
Still – what about the "no fighting rule" so many of us were taught as kids, that we pass along (mechanically) to our own children? What about all of us who were taught not to fight? Is this what leads to the long, silent build-up of resentments, and the seeping out of passive aggressive behaviors? Is this what leads to picking fights?
You May Also Enjoy