Valentine's Day is just around the corner. Are you planning a proposal? Contemplating putting one out there or hoping to be on the receiving end?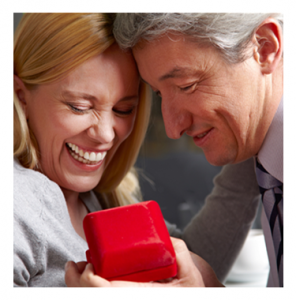 We've barely shelved the holiday decorations – mine are still sitting in a small bag in my den – but those pink and red hearts have popped up with a (passionate) fury in the greeting card aisle at the supermarket. And in my online meanderings, in addition to the (usual) fine footwear ads that follow me around, so too are a few more robustly romantic options… a diamond here, a resort spot there.
So spill! Are you planning to propose? Looking to do it on Valentine's Day?
Are you trolling for tips on how to pop the question? Ready and willing to tie the knot?
How to Propose. Or Not.
They're easy to find – from the traditional to the exotic. You might use food. You might opt for a letter. You might use a banner, a billboard, or a beach to write out your proposal.
I've had a few "offers" in the past, and generally they make me smile as I remember them.
One took me utterly by surprise (yes, the man I married), though it would have been more romantic had I not assumed he was kidding on the first less than serious attempt.
And no, there was no bended knee, no hidden ring inside a Baked Alaska. Simple words eventually did the trick, and I suspect the magic of Paris as backdrop served as an able assistant.
Other proposals were both more earnest – of the "I want us to get married" variety – (cue the drop of my jaw and listening for a pin to drop), and carefully evaluated as an ongoing topic of discussion. In other words, once there are exes or children in the picture, real world complications require equally real world considerations.
As for the typical Christmas or New Year's proposal? The Valentine's Day proposal? Why are these so popular? (I still don't get it.) Why not a walk in the woods, a hot air balloon, a picnic on a Sunday afternoon?
Proposal Season
Is anyone else ready to move past this particular "candy holiday" – (also known as pressure-filled proposal season) – and head straight into Easter instead?
Believe me, I'm not unromantic. However, I don't care for the commercialization of romance, or the push to propose in certain settings much less after a specified period of months has elapsed. In fact, you may find yourself in "if it ain't broke, don't fix it" mode, or at a stage in life when you're relieved that you'll never have to marry again, which doesn't mean you aren't open to love in all its pragmatic splendor, only that the confines of convention no longer feel required.
My mixed feelings on the subject of marriage aside, I'm well aware that the prospect of a proposal the first time around can be thrilling, and filled with anticipation. (I can only imagine for the one doing the planning and asking, it's a time of anxiety, and hoping to make it memorable.)
Any wild proposal stories?
What's the best proposal ever, from your point of view?
Must it be dinner over candlelight and the traditional phrasing?
As a woman, would you do the asking?
As a man, would you be fine with that?

Big Little Wolf's Daily Plate of Crazy