Are you on the "Saturday Night Sex" schedule?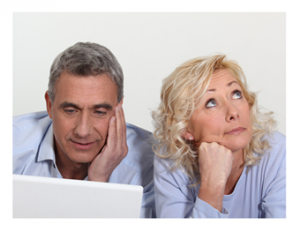 If you are (and you're married with children), maybe that doesn't sound half bad, now does it?
Then again, if you're living the single life, you may be enjoying more plentiful pleasures or, you're suffering the soul-stifling sorrows of Zero Flesh-on-Flesh Contact.
So is occasional sex better than no sex at all?
Does scheduled sex lose its flavor or savor when spontaneity disappears?
As for life (and sex) after divorce, some go wild until a relationship comes along. Others, like me, close up shop until "their house" is in order. Then, if we're lucky, we rediscover sexual activity as something more – gleeful, imaginative, and irrepressibly playful.
Is Sex a Must-Have in a Good Relationship?
A recent article on Huffington Post addresses sexless marriage from an interesting angle – the example of a man with low sex drive, and the wife who lives with it and wonders what's wrong with her. Like so many women, she's convinced it must be something she's doing (or not), yet ultimately this was a libido problem she alone could not fix.
Some might say you can have a loving relationship, even a marriage, with little or no sex as part of the bargain.
If all else is good and you're of like libido, then why not?
But if one is feeling like you pulled the rug out from under (or over or side-by-side), it may just be a matter of time before the relationship comes to a screeching stop. Or, you allow for other parties to enter the picture – which of course runs the risk of emotional involvement, which is potentially more dangerous than satisfying the physical itch with a periodic scratch.
Condemned to Connubial Celibacy
In one comment on the Huff Post column, a man describes his union as sexless for many years, the result of his wife being ill. He is understandably afraid to go outside the marriage for affection of any sort, which – as he explains his feelings – sounds more like a fear of judgment by family members than his own set of ethical standards.
He doesn't want to commit infidelity. Admirable, right? But is infidelity even an accurate term for going outside the core relationship in this situation?
Some offer flippant responses to this man's dilemma – all he needs is a magazine and his right hand – that sort of thing. But others suggest that depending on the extent of his wife's incapacity, pleasure for both is not necessarily out of the question.
And I come to the issue of sexual fantasy, of sexual generosity, of physical affection, of playfulness. Shouldn't we understand their role in our relationships – and consider them all as viable ways to turn around a matrimonial mess?
"Not Tonight… I've Got a Headache"
It's hard to dredge up desire when you're worried about your health, or your child, or money, or a job. It's hard to let go of the disagreement with your sister, the latest dental bill that's over two grand, or the foul temper that flared when your boss dumped another task on your list just before the holiday.
Yet how many women who aren't in the mood withdraw from any affection at all, believing it will lead to sex – which they do not want? Why don't they want it? Too bored? Too busy? Too disconnected?
And what about men who don't want it? Is the reason for withdrawing from sexual activity because desire has gone missing, or the relationship has gone missing, or a midlife crisis is looming, or there's someone else?
The F Word: Fun? Fantasy?
We know that fatigue, stress, pain, medications, and hormonal fluctuations can nudge libido off the table. We know that our bodies change with aging, not to mention our feelings about our bodies.
But what about our partners, if their libido remains intact?
Are some of us better at separating the physical from the emotional?
What if we recognized the cerebral in the sexual? If we did, couldn't we use it to our advantage at any age?
What if the F Word was Fun or Fantasy? If we're willing and able, couldn't Saturday Night Sex slide into Sunday Afternoon Delight? A laundry room encounter while the kids are at a movie? A little scuba diving in the jacuzzi?
Aren't we all capable of setting aside the "self" sufficiently to be sexually generous – and in so doing – more emotionally connected?
Can't we find a way to share our temptations, our laughter, our imaginative side with like-minded partners – and do so without embarrassment? Scheduled or spontaneous, couldn't we resolve to flirt with fantasy, take ourselves less seriously, and enable sex or lovemaking to be more fun?

You May Also Enjoy