He comes to me in dream and this is the third time in so many months and he is as alive as he was 30 years ago when I loved him. I am startled at each appearance; he is the model of every girl's desire or certainly mine: tall and lanky, black-haired and with oceanic eyes, handsome, yet not in a chiseled way or an arrogant knowing; there is a roundness in his face revealing a careful life or a pampered one, though it is only later that I know both to be deception.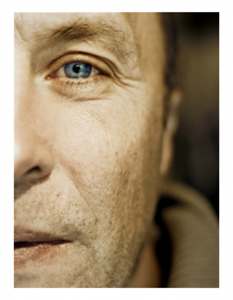 His smile always brightened when I met him on the stairs in the January cold and the February cold and the flagrant insistence of the March wind when he would offer to whisk me away to an island and I would laugh, and then decline. In those months of brittle mornings he placed the first cup of coffee between my gloved hands and it was steaming and strong and we walked together; he hooked my arm in his and we took the icy stairs down into the heated belly of the station.
He comes to me in trust during these visits: trust in our relationship, trust that I will see him, trust that I will hear him out. He comes to me as I am standing in our city: we are both young though he is an older young and I feel unbalanced and wobbly in tapered heels that catch in the cobblestone street. I am perched at the top of a dark descent and I see him waving from the bottom, and I know him by his stance and his gestures, and his reliable stature, even from a great distance.
"He is not a ghost," I tell myself. "I will go, and I will return."
I take careful steps down to meet him, and there is no railing to steady me and there is only training my eyes on him so I do not lose my nerve and I do not fall.
I seem to be entering a sewer system or underground storage or perhaps some fictional space out of a James Bond thriller. I feel the chill as I continue to make my way down and then I stop – three steps from the bottom.
He lifts my hand to his lips and kisses my fingers and now we're facing each other, me on the third step while he stands, firmly, on the earthen floor of this unknown cavern.
"Take this," he says, and he presses a rolled wad of bills into my palm and I am fidgeting and my mouth is dry. I am silenced by equal amounts of unspoken protest and weary pragmatism.
He notes my hesitation and says: "You need it, I have it, and this way you won't be afraid any longer," but I am afraid because he's leaving again and he lurches forward on some sort of conveyor belt, and he looks so striking in his charcoal suit and white shirt and his pale gray banker's tie. But he is moving away slowly as if through an airport and that after all is where we met, so I tell my friends for years "you meet good men in airports" and I am right and then I am wrong, and I will never know which flight I should have declined.
He waves and says "let go and take, let go and keep, let go and trust me."
I open my hand and unwrap the roll of bills and count out 800 Euros in pastel colors and 5,000 green and white U.S. dollars.
He grows smaller now as the moving sidewalk sweeps him out of view and I am suddenly jolted in time; he is my Mr. Big before Mr. Big is invented, in days of flowers and limousines and my own younger body; in private, he recounts stories of Vietnam and stories of his poverty, of his longing to feel safe, of his years of work and never feeling safe enough, of his children by his first wife whom he loves – the children, and I am convinced, still, the first wife. He tells me I need to trust the relationship, I need to believe, I need to give myself to the strength to overcome the destruction of foundations and what appear to be stumbling blocks.
He is a man who builds. He is a man who makes money. He is a man who invests. His lovers are instruments; his children are his most exquisite capital gains.
I am drawn in by his youth and my innocence, by tenacity as well as trials, by the blue of his eyes and touching tenderly. I am wary of the scar on his abdomen, and the smoothness of my own flesh, so I estimate the years we may live together happily. I ponder spreadsheets and probabilities. I adjust for strikes against us.
Now it is Camille Grammer's dark gaze and only for a moment, and those damnable Housewives in the background and the wedding industry and the marriage agenda and all of it woven into our girlish hearts, even when we reject it for its flawed logic, for its obvious pitfalls, for the devastation we see around us as we promise ourselves That will never be me.
A friend leans in and insists gently "But what about remarrying?" And Camille answers:  "I've been betrayed, I would have to learn to trust again."
Now I am Camille on the other side of an oblong mirror and myself, obscured, paralyzed in the cavern beneath the city. I am not afraid of the shadows or the damp; he did not come to take me but only to advise me – to offer a sign of safety as if to urge me to welcome the cradle of dream, to grant the acceptance of trust, to rebuild the fund which is never entirely depleted.
I stare at the money and wonder if I should keep it. I fold the bills neatly and place them in my jacket pocket. I consider the concept of a Trust Fund, trying to imagine life as it would be now with the one I did not marry, the one who was loving to his children, the one who died from the blossoming beneath the scar, the dreams that died in me a decade later. I marvel that he appears in the unfolding of dawn and leaves me to rewrite definitions: first, the Trust Fund and then, Investment Instruments, knowing these for the uncertainty they always bear, and the compassionate intent of the ones who pen their provisions.
You May Also Enjoy