To say that she was fond of the sticky note is an understatement. They were everywhere in her office – affixed to legal files and planning calendars, poking out from stacks of newspaper articles she'd torn from the Washington Post or the New York Times.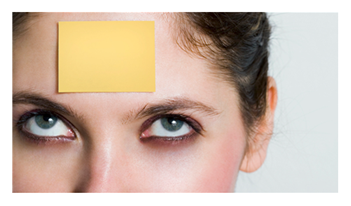 She was an avid reader and writer; her letters would frequently include a clipping of interest complete with a post-it and her thoughts.
* * *
The letter was tucked among the bills and junk mail and advertising circulars, stuffed into my mailbox. It was a standard white business envelope, and as I looked more closely, I imagine I paled before I dropped it onto my living room sofa and stared.
The mailing bore my mother's name which was typed neatly above my address. I didn't expect to receive a letter intended for a dead woman.
Unidentifiable Mailings
The stamp was an unfamiliar one, the only postmark was blurred but local, and no return address was provided. My mother lived – and died – hundreds of miles away from this city, this street, this little house.
The address on the envelope which left me paralyzed appeared to have been typed on an IBM Selectric, rather than produced off a printer. I took my time before opening it, eventually sitting down on the couch, and talking to a friend on the phone as I ran my finger under the edge of the envelope, tearing it open neatly.
Inside was a folded newspaper article from some sort of financial periodical; there were mutual fund quotes on one side and a book review on the other. Affixed to the book review was a medium square post-it, yellow, with a hand-written note addressed to my mother by her first name, and then: "Thought you might be interested."
The note was signed with an initial – my father's.
My father who has been dead more than 20 years.
Too Close for Comfort

Not only was my mother a fan of the sticky note but also her beloved Selectric purchased in the 1970s and used for 30 years. I have stacks of newsy letters that stretch over decades – the decades we were talking, that is. I've been unable to re-read most of the letters and cards since her death and equally, unable to toss them out.
Many contain clippings from newspapers and yellow post-its.
My mother's penmanship was distinctive and even now, occasionally, I'll open a textbook or notebook shelved in some corner of my home and come across one of her notes pointing out something of interest in her strong, elegant cursive.
The article in question had to do with retirement investing, a subject she would have been interested in and likely shared with me.
A mailing to my dead mother that would have been a typical mailing from her? To say that it was creepy is an understatement. That the personal note bore my father's initial was creepier still.
Mistake, or Investment Fraud Scam Targeted at Elderly?
I could not imagine who among my mother's friends wouldn't have realized she had passed away years ago, and that she was not living with me. As for the initial? My father also had very distinctive penmanship and it was not the handwriting of a dead man to a dead woman.
After pacing a bit, I turned to Google in order to identify the originating newspaper which I'd never heard of. From the little I found on the Internet, the publication appears to be generic financial news used solely for promotional purposes (I'm still uncertain). My guess? The article and book are tied to an investment scam, possibly targeting the elderly for financial planning services.
We all know that email scams, phone scams, Internet scams, and an assortment of "get rich quick" money-making schemes are everywhere. The elderly are easy prey. Apparently the originators of this particular postal mailing didn't bother to remove the dead.
At best, this was a tacky sales scheme with the added "personal touch" of a sticky note which, in my case, unleashed a host of memories and visual references to not one departed parent, but two.
This morning I find myself still unnerved, and poking through a stack of old letters, longing to see my father's fine slanted print, or my mother's exquisite cursive.

Big Little Wolf's Daily Plate of Crazy