Blank.
I went absolutely blank in front of the screen – mid-thought, mid-sentence, mid-action.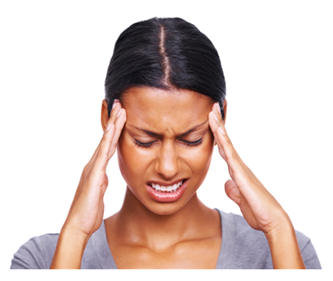 Welcome to the Land of Extreme Migraine – blinding, pounding, and debilitating.
At least I knew what it was, and had a few minutes warning which allowed me to push through three critical tasks, in full juggle at that particular moment.
I felt the wave build, but assumed it would pass quickly. I never expected the severity of the episode that followed.
Typically, I can chop a migraine off at the knees with an ibuprofen and a tall glass of water. At most, it's an uncomfortable hour or two, a dull headache throughout the day, and an occasional annoyance I live with periodically.
Not this time.
I suppose I should have anticipated it. I've spent the past weeks burning the proverbial candle at both ends, on little sleep, frequently forgetting to eat, and I was more vulnerable than I realized. Hello… Self-care? Sorry I neglected you…
Whatever elements of biology, chemistry, genetics and environment combine to nail some of us with migraines – some believe exacerbated by stress – yesterday was my personal tsunami.
Migraine Warning Signs
My migraines begin with what is called an "aura," including warning signs in one eye, along with tingling in fingers, lips, and tongue. My vision may be moderately to significantly impacted. It all dissipates fairly quickly as the headache portion of our program takes over. I do not suffer nausea (which many people do), and I'm grateful for that.
A ghastly migraine like yesterday?
They appear seemingly out of nowhere. It's been several years since the last one which, in fact, occurred during an extended period of extreme sleep deprivation – a place from which I have written through the fog, in part to capture the experience of it.
As for my tasks in process when the migraine hit, I anticipated having a few minutes to prepare. I polished off what I could, and hoped to complete one more activity. But I was stopped in my tracks.
Five minutes earlier I was perfectly fine. And then I wasn't.
The fingertips on my right hand began to tingle, my tongue went numb, and the pounding began in my temples – the right side more than the left. A strange pattern of light moved across my field of vision, temporarily obliterating one section of it. And I plunged down the rabbit hole utterly defenseless – the terrifying free fall where simple actions unchain from sequential meaning, language is stripped away in a flash, and what remains is confusion and overwhelming helplessness.
I had swallowed an ibuprofen and water at the first signs just minutes before. But I found myself in front of my computer screen – muddled and unmoving.
It's strange how one can be wordless yet still feel – I was aware of my disconnection, aware of my fear, and likewise – angry at the suddenness of the episode. But I had no words to transform feelings into precise thoughts, as crystallized by language. It's infuriating and frightening when words go dark; it feels like death of a part of yourself – something you cannot even give a name.
Migraine Facts
According to Wikipedia, migraines of various sorts afflict 10% of the population globally. Other facts about migraines which you may or may not know include:
Exact mechanisms of migraines are unknown
Migraines run in families
In some, warning signs (irritability and more) may occur hours or even days before
An aura typically begins minutes before and may last up to one hour
Aura symptoms can be visual, sensory or motor; 99% of those experiencing an aura suffer visual symptoms
Both men and women suffer migraines, with women suffering more as adults
Hormonal changes are believed to play a role (including at menopause)
Deterioration of speech and language is a somewhat less common symptom of the aura phase
Beyond the aura phase (for those who experience it), what remains is headache from moderate to severe, which may last from several hours to several days
For most, sleep will ease migraine symptoms
In the United States, about 6% of men and 18% of women get a migraine in a given year (Wiki).
For more detailed information on migraine symptoms, treatments, and prevention, check out these migraine headache topics at e-MedecineHealth.
And if you get migraines and have children, talk to your doctor about educating your kids. One of my sons got his first migraine in middle school and was terrified. At the time, I didn't know migraines ran in families, and it never occurred to me to explain the symptoms.
Oh Happy Day; Make That "Oh Happy Next Day"
A migraine that puts me down for hours or even a day? Rare, thankfully, but it happens. It has to be nearly three years since I experienced anything remotely this bad, and I found myself grateful I wasn't sitting in a meeting, or worse – behind the wheel of a car.
With fragmented vision in one eye and my right hand unusable, I had the presence of mind to push three buttons with my left hand on my cell. I reached a friend who literally walked me through an online process I had performed thousands of times and could not recall. She then read what I wrote online, calmly told me what I had to fix (and couldn't see), and slowly, with one hand and one good eye, I did exactly that.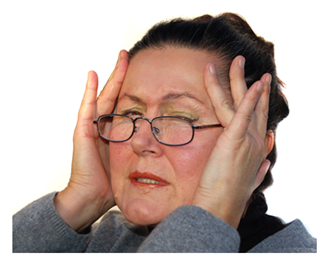 My friend then instructed me to get a cold compress for my forehead, and turn down the lights, which I did. Missing words returned within the hour, and I spent the rest of the day working in short spurts through a dull headache, weakness, and slightly blurred vision.
Today?
I'm tired, my eyes hurt, my body aches. Relatively, I feel great!
While there are many elements that form to cause migraines (and still so much unknown), I am also keenly aware of keeping a ridiculous schedule, I know I cannot sacrifice healthy eating much less necessary sleep, and I am more determined than ever to rectify my problematic behavior any way that I can.
We live a crazy lifestyle in this country. Many, like me, are not doing so by choice, but as a matter of economic necessity. That doesn't mean we don't enjoy what we do, but we take little downtime, experience even less let up of stress, and much as I love when my kids tell me to chillax  – until our culture and our communities begin to carefully examine our work-life disconnects and the infrastructure we all need eventually – I fear too many of us will be taking a pounding on our health.
If that's the case, then may we all have a close friend who is so caring and calm as mine was yesterday – a true port in my very scary storm.
You May Also Enjoy