Have you ever been tongue-tied at the worst possible moment? Is it when you're caught off-guard, or in particular situations that trigger tricky emotions?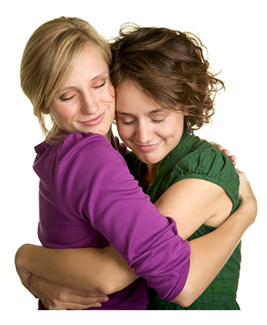 I know myself to be less than adept at certain types of social interaction. For example, when attending a memorial, I flash to the losses I have experienced, in particular both parents, and I relive palpable grief, and a longing for what never was.
More often than not, emotion wells up through my throat and I must fight back the tears. If I need to speak to the bereaved, all I can do is reach out a hand, offer a hug, and possibly murmur a word or two. 
This weekend I attended a service for a friend's father. I wanted my presence to be felt as support, as compassion, as genuine love.
The service itself was enlightening: Stories were exchanged about a very fine man, and I was filled with sadness for my friend, and regret that I had never known her father. And in addition to those regrets, I was struck by another realization: I haven't been a very good friend to my friends in recent years.
I used to believe the women in my life had walked away; now I wonder if they believe I did the same.
Though my explanation lies in my own daily challenges, I may never know if these friends consider that I edged away from the relationships I once held so dear. In some instances, they took their distance, and the reasons are clear. In others, the tangle of emotions is more complicated. Perhaps I constructed a sort of barricade – just to make it through each day.
It's difficult to remain friends through divorce, and possibly more so, through dramatically changing financial circumstances. It's been difficult for me to ask for help, though some – like the woman I mention here – has always given without asking, and with such purity of spirit I continue to be struck it.
And so, back on point. Listening to the eulogies, I came to understand the sort of parents my friend grew up with, the character model she was given by both mother and father, the rich influence of a dad very much in her life, and the values that made him a philanthropist, a scholar, and a modest man of great standing in his various communities.
I better comprehend why his daughter, my friend, has spent a life in giving, in creating, in learning, in absolute sweetness unlike any individual I've ever encountered. She is generous and compassionate, honorable and gentle, with an unexpected combination of worldly wisdom and a child's capacity for awe.
I watched and listened as she spoke with tenderness and composure, with eloquence and humor. That in itself is a tribute to the man who was her father, and the way he raised his remarkable daughter.
After the service, I searched for the words to express my sympathy, and clung to them in my mind. But when I had a moment with my friend, I choked up, I fought back tears, and syllables refused to form. All I could do was reach out and hug her – and very quietly, say: I love you.
I may never be able to speak the words in situations like this. But I hope my friend sensed my genuine empathy for her loss. And what I will say again – here, if she is reading – is how much I admire her, how much I am grateful for her example of grace in everyday life, how much I will always value her, and love her.



© D. A. Wolf

Big Little Wolf's Daily Plate of Crazy