My definition of a hot guy? Smart. Funny. (Aren't humor and smarts sexy – in a man or a woman?)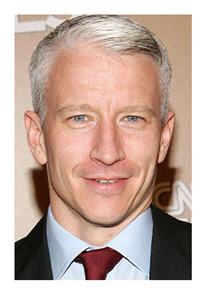 And sure, penetrating eyes, a great smile, a cute butt – they don't hurt.
So. We have this week's news about Anderson Cooper.
And?
He's gay. And?
The Gay Thing – who is, who isn't, and whether or not anyone cares. Or rather, whether or not some of us even go there – consider it, don't consider it – unless the subject is explicitly raised.
I fully understand that it's important to discuss this issue because of terrible acts of bullying, kids suffering a sense of shame, and discrimination that persists in some circles – all the reasons you've already seen in the media.
All valid.
And maybe I'm a bit clueless. When I meet someone, I'm impressed (or not) by overall appearance and mannerisms – how a person holds him or herself, their scent, their gestures, their clothing. Like anyone else.
But I'm more affected by what he or she may say and how they say it. And yes, first impressions count.
But rarely do I ask myself "Is he gay? Is she gay?"
Um… Why would I?
Sure. If I were interested in a man, I'd want to know if he were gay or straight. But otherwise?
As for Anderson Cooper, I've always enjoyed him as a journalist. I appreciate his intelligence and his wit. Beyond the journalist's role (when he appears elsewhere in the media), I've found him cute, personable, and interesting – including the fact that he's Gloria Vanderbilt's son.
Did I ever consider his sexuality one way or another?
Again… Why would I?
I'm really not trying to oversimplify what can be a complex situation for many, particularly when certain religious or cultural views prevail in many corners. But maybe it's simpler than we make it. With President Obama's "evolution" toward same sex marriage, and with "coming out" less of an issue than it once was – which doesn't mean we don't have miles to go – might we all start to accept human beings as just that, and set aside judgment as to who they should love, who they should marry, and whether or not it's our business?

Big Little Wolf's Daily Plate of Crazy