It is a simple thing.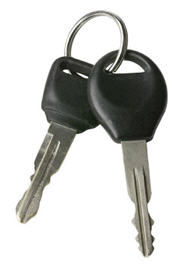 I am searching for a password to an alumnae account so I can update a profile. I am searching for the key, a combination of letters and numbers that resides somewhere on a thumb drive, itself a key. I have only to locate the right one – a small strip of brightly colored plastic.
But there are dozens of these tiny repositories now, and they house images of my boys and the dog, documents and resumes, stories begun and not yet finished.
For some of us, we are always searching.
Keys
For years it is the keys that are lost, the keys that drive me crazy, the keys that evaporate and I cannot fathom it; the house keys, the car keys, the house keys again. Even the piano keys seem to stick, and music goes missing at the worst possible moment.
For years it is about five and a quarter centimeters of metal, the grinding of the locksmith's tool at Ace Hardware, the latest replacement in red then purple then blue. And I realize: It cannot be about the key itself.
Perhaps it is the lock, the locked door, the unlocked door.
Perhaps it is about the rescue, reassurance of the rescue, the parent who will be there.
I ought to be relieved to a degree; even at college he loses his key, not to mention his wallet. He is lucky with the key and the wallet. Both are found and returned.
He is lucky more often than not and again, I ought to be relieved.
Leashes
During the worst of the wars I hold him tight and we do not speak, though I recall that I may have hummed or cooed or spoken of nothing much, or I simply hang on, hang around, watch over. He seems so vulnerable, even as he sleeps.
During the worst of later years he chafes at the tighter leash that I maintain. To him it is a sort of choke-hold, though as a parent, I assure you it is nothing of the kind. He protests and acquiesces. He is cognizant of his inability to find the way home.
These are more than breadcrumbs. This is a tie, to protect us both.
The dog, especially as she ages, has no desire to wander and requires no leash.
The necessary order of things
His brother is the firstborn and in contrast, he articulates everything, rebels and advances, hunkers down for survival, returns for grounding. He feels it all equally – our schisms and our connections – yet he benefits not only from the looser leash, but extensive privileges.
First, we must master the basics.
Then, we will earn our latitude.
Eventually, we welcome freedom – freedom as a gradual process of loosening the apron strings, freedom to find our way home.
Changes
I am searching for the dog circling in the corner, for the child asking permission, for the honeyed ham and Swiss in the cold cut drawer so I may make his sandwiches as I have thousands of times.
I am searching for what has changed and the instant I can pinpoint: life conceived, life departed, life transformed.
Searching used to be a serious skill, even a profession. Today, its permutations undermine my confidence, as the explorer sheds his trench coat, his sixth sense, and his archaeological pleasure, opting instead for the expediency of engines.
Openings
Keys are hard: keys to the mind, to the music, to each mystery we choose to note and address.
Keys to the kingdom are elusive; the more there are locks, the more time we must invest to discover their secrets.
Keys may be small, but I know them to be weighty. Their toothy contours are deceiving, and their fit is rarely guaranteed. Yet we acknowledge their necessity and more so, their disappearance: tucked in the back of our minds and the bottom of our pockets, abandoned carelessly beneath utility bills and bank statements, tossed among lipsticks and shadows in a purse that hangs in the closet.
Openings are the sweet suitor, the temptation, the early flight of motivation. Openings carry me to the stepping stones of searching.
Locks
I am searching for the password and I find it. I open my page, update my profile, log out, and consider the two hours that are lost though I hesitate to use that word.
On thumb drive after thumb drive, there are images of my boys and the dog, my boys who fly away to college, the dog who no longer circles in the corner.
Sometimes, searching is not about finding and keys are not about gaining access. Rather, they honor the presence – or absence – of each newly encountered door.
Searching
I will not lie: I see my boys as children, and miss them.
I will not lie: I see my boys becoming men, and miss them more.
I will not lie: The breathless pace of playing Atlas carries a ruthless price tag.
I will not lie: I see my younger self and cannot see the exact moment of her departure.
Soon, it will be about arrivals. I will hear the turn of a key in the lock, or perhaps, I will leave the door ajar.



A thank you to Wolf Pascoe. His beautiful musing "A Thing Is What It Is: Truthiness" inspired this piece.


© D. A. Wolf

Big Little Wolf's Daily Plate of Crazy