Can't help it. It works. Aspiration as inspiration. And right now, it's about Spring and motivation — and a sense that I want space.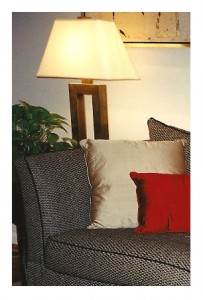 No, that's not quite right. I need space — organized space, colorful space, and images online or in magazines are reinforcing that restless, unrelenting, tantalizing requirement.
So I'm gawking at rooms in House Beautiful, fishing for storage ideas. I'm pacing the perimeter of my interiors, determined to shuffle, to shed, to streamline. And I'm seeing red, or rather, gravitating toward its particular hues, seeking to invigorate as I refashion my environment to feel like it's truly mine.
But it's still more.
It's about clearing out mental clutter, exchanging an excess of multitasking for a less enervating, less scattered, and more sequential set of daily tasks. It's about one thing at a time, at least some of the time.
Multitasking Rocks! (Multitasking Sucks!)
Most of us have come to believe that doing many things at once is always good. But what if it's not? What if multitasking is weighing us down, and threatens to sink us?
This morning I dipped into an article that explored exactly that. It's a thought provoking tidbit from the Harvard Business Review called "The Magic of Doing One Thing at a Time."
The author suggests that a large percentage of people report feeling burnt out at work, and contrary to prevailing wisdom, it isn't explained by extensive hours so much as not being able to focus on one thing at a time.
Now, most women would say that we are superior multitaskers to our men. (Research proves this out, apparently.) Whether in an office or on the home front, or dancing in both those cirques de soleil, we're determined to achieve the elusive work-life balance, while running and juggling as fast as we can.
Or possibly, as fast as we can't.
Peter Principle Bleeding Red?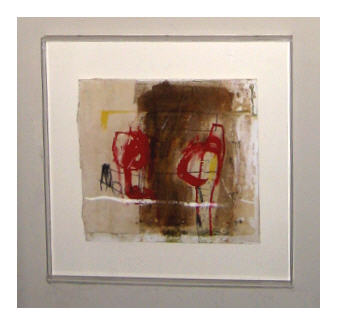 What if it's the Peter Principle bleeding into our home lives? You know what I'm talking about – the classic management principle that we rise to our level of incompetence, and there, we are stuck in a spot where we can't dig out or fathom other options.
So do I need red for the juice it provides to push myself harder and take on more?
Can I recognize my own Peter Principle and change the conversation?
When do we tell ourselves to slow down, to take a breath, and to reconsider the value of serial tasks executed with complete concentration? Could there be more satisfaction to be gained – not to mention efficiency – from more single-threading and less multitasking?
Red Interiors, Small House Happiness
Returning now to my latest issue of House Beautiful – and my acute awareness that my own house is anything but – I'm reminded that our living spaces reflect our inner spaces. And this seasonal urge to clean?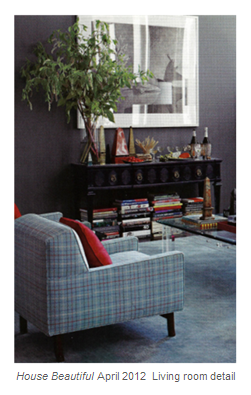 It's an excellent sign.
My home spills over with the clutter of adolescents (who left their trails behind), my own breadth of passionate interests (and too little time), a multiplicity of projects – writing and otherwise – and a serious storage challenge exacerbated by my habit of multitasking.
My small home serves as my office, with one room dedicated to writing and working. It's a room I adore: simple bookshelves line both walls, art I love is within view, and I sit at a round table in the middle of a narrow but pleasant rectangular space.
And organization is critical; my touches of red, energizing.
My desire for more red reflects the insistent awareness that this is a time to renew, to revitalize, and to refocus.
House Beautiful – One Task at a Time
This week? House Beautiful inspires me, and motivates with its gorgeous photographs. I know I can do better with my own interiors. I am drawn to a designer who juxtaposes warm and sleek, spices his spaces with the boldness of red, clearly takes cues from art and books, and dishes up a dose of practical quirky.
I find myself wanting to paint the town red! Or at least, my room or possibly, an accent wall. Then I remind myself not to take on far more than I can chew. Instead I may stick to something simpler and more manageable – cherry accent pillows, and removing the stacks of periodicals from my favorite ruby red chair.
Whatever I undertake around the place, it must be properly prioritized, and one task at a time.
Anyone else longing for spring cleaning?
Clever suggestions for an overflow of indispensable books?
Do you crave red – or some other color – and find that it lifts your spirits and refreshes you for whatever comes next?
Do you multitask to the max, and find you're less than productive?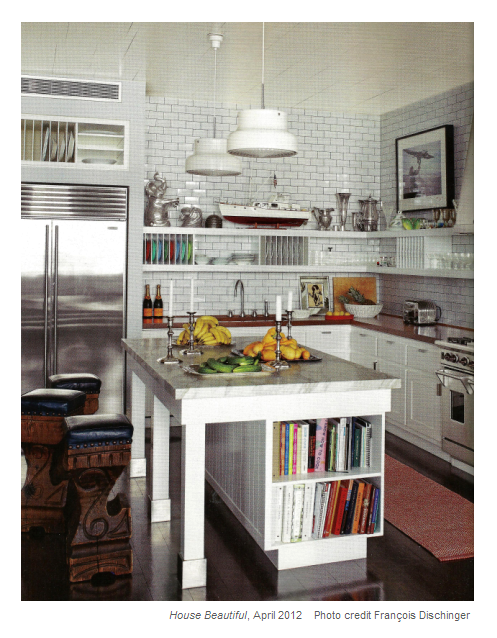 House Beautiful images, April 2012 print issue, designer Steven Sclaroff, photographer François Dischinger; gorgeous interiors with smart storage, an eclectic mix of furnishings, streamlined yet warm, punched up with dashes of red.
Other images, Yours Truly
You May Also Enjoy