Yesterday I wrote a seemingly lightweight piece on the elderly couple (in their 90s) who made the news by marrying recently. Lillian and Allan Marks, technically newlyweds, met some 18 years ago, have been living together, and finally wed.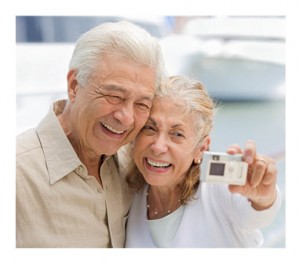 On the Huffington Post, you can watch a video of their brief exchange of vows, and you can read the comments that follow – most of which describe them as sweet or cute or precious.
Seriously?
Where is the dignity in our responses to our elders – that same dignity that we expect to be accorded in our twenties, thirties and forties?
Why is it that once an individual appears to be of a certain age, we suddenly diminish their feelings, their competence, and their full personhood?
Where is the realization that these remarks, albeit well-intentioned, are patronizing and dismissive?
Yes, a few people viewing at Huffington Post noted exactly the same thing – the inappropriateness of those descriptions. This couple is elderly, but they aren't children. Cute? Sweet? Those terms left me indignant.
Clearly, I've got something in my craw. Yesterday's writing on remarrying when elderly opens numerous areas for discussion. A couple at this stage in life choosing to make things legal is fascinating. But the attention was on their age alone, the novelty of it, rather than the many questions.
If you glanced at those questions, did you scan and move on because you had no time? Because the topic wasn't of interest? Did you carry anything of the related questions on marriage, divorce, or relationships into your afternoon or evening thoughts?
Am I scolding? Yes, I suppose I am.
There were a few words left here (thank you to those readers), but comments here aren't the point. What is – and the source of my irritation – is our growing tendency to read and think as if we're skipping stones – hit or miss, skimming the surface, then moving on.
Marriage, Remarriage, Knowing What We Want
As for those musings on marriage, sparked by this elderly couple, I have plenty of questions. For myself, they're valuable. So what about you? Do you pose yourself questions? Do you take or make the time to do so? Do you know what you want in your relationships? What you don't want? What you have or don't have?
Do you pursue your goals including your happiness, and do so at all cost?
If you're not content in your marriage, are you what needs to be examined? If you're considering remarriage, have you done your healing, and the introspective work so you don't repeat your past mistakes? Have you learned the difference between self-interest and selfishness?
As for the Marxes, one comment left here suggests they are a couple in love, and I would agree. Another categorizes them as an inspiration (and denounces the ageist insensitivity as well). And again, I agree.  Yet I ask, still – why the need for that special commitment after 18 years together? Are they more open to love because their previous marriages ended in widowhood rather than divorce?
Imagine Yourself In 30 Years
Anyone old enough to remember being taught to respect your elders? Don't you think there's a valid reason why we were taught such a thing – beyond the fact that everyone ought to be accorded respect?
Try this. Come on. Man up.
Imagine yourself today – as you are, and the age you are – 24 or 37 or 43 or 55.
Now add twenty years. Hell, make that thirty. You are still you, and even more so, enriched by the wisdom of your experiences. But your hair is gray, your right knee aches, your pace is slower, your sleeping is interrupted. Your body doesn't look like your body now – but you're still you.
In fact, you're a better inner you than you ever imagined you might become.
Respect Your Elders
Respect your elders? Now you're one of them and damn right you want respect!
You still have feelings. You still love sex. You still perceive and respond to beauty. You still contribute, want to contribute. You have dreams. You are still yourself.
Don't you deserve to be treated with dignity? The same dignity you demand at 24 or 37 or 43 or 55? Don't you want to be visible?
Wouldn't you be furious if someone called you "cute" or "precious" or "sweet" in a well-intentioned but utterly dismissive way?
Dumbing Down, Dropping Out
Is the world truly dumbing us down to such an extent that we can no longer read thoroughly and think for ourselves? Are we going through motions and effectively dropping out?
Are we so focused on getting through the day that we've set aside our sense of decorum, our ability to imagine other circumstances, our outrage, our common sense, and the fact that we don't know everything?
Where are our thoughtful questions – big questions, little questions, the lines of inquiry that lead us to help ourselves and others along our journey, and without erosion of self-respect? Where is the examination of our own motives, the possibility of learning from mistakes, the opportunity for change?
You May Also Enjoy