I suppose it's a straw that broke the camel's back sort of thing. Then all you want to do is run. Far. And fast.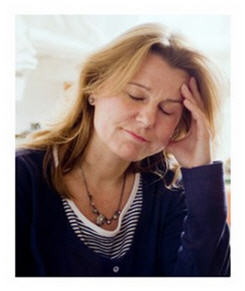 The plastic storage containers tumble onto your head one too many times, and you know it's your own fault for cramming them into a tiny space on the top shelf. The dishes are left in the sink day after day, and this time, you're the one who let them go, and let them go. The stack of bills is higher than usual – despite all your attempts to economize, to go without, to cut, to juggle, to shuffle.
There's yet another maintenance issue with the house. It's won't cost a fortune, but it's a hassle to take care of. There's yet another rumbling from the car. It's getting older, and you have no idea what the outcome will be.
As for getting older, so are you. And you feel it even more when you realize there are a hundred minuscule moments when you want to run. Just leave it all behind.
What kid doesn't plan his escape at least once in his young life? He packs up a little bag, and makes it as far as the corner of the street. What adult doesn't dream of running away – leaving behind the messes of daily life – at least in his or her dreams?
Most of us, of course, never abandon our families, our responsibilities, or our most proximate selves. But we're tempted. We get tired of our spouses, our marriages, even our divorces. We're sick of our jobs, our lack of jobs, our escalating challenges. We seek a haven – running away physically at times, and at others, taking refuge in a new relationship, a change in career, or possibly food, alcohol, or other substances.
I'm convinced that it's the mess that drives us to it. The complexity, the stupor faced with the repetition of tedious tasks or callous confrontations, those that drive a wedge in our relationships with loved ones. Those that drive a wedge between who we have become and a self we once knew.
I won't say I haven't thought of running away from home. As a child, you could say I found an acceptable way to do so, though it took me many years and of course, I had to return. But it was empowering to make that run – to work three years at every chore and job, saving every dime so I could buy myself the benefits of an ocean.
Those thousands of miles of distance helped; I took to a summer living experience in France like the proverbial little canard to water. I was running away, yes, and also running to – though at the time I'm sure I didn't know the difference.
And that distinction between running from and running to? Does it really matter – when the point is that you feel a need to run? An urgency, spurred by a sense that it's your only chance at survival?
Some individuals run more easily than others – when the going gets tough or complicated, when life isn't going their way. They leave families. They cause wreckage. They may carry regrets; they may even circle back to make amends.
I've thought about the notions of quitting, the nuances of abandonment, and what it means to take distance. There are times we know that a situation isn't working, or a project, a career, a relationship, a friendship, a marriage. Do we speak up? Do we try to fix what isn't functioning? Do we sever all ties because it seems easier? Do we simply walk away, and leave the mess to someone else to clean up?
I have no answers. But I'd be denying my own truth if I didn't say I wish I could run away – from the dishes, the bills, the pressing responsibilities. From myself. But usually, there are options – a middle ground to establish – something far from abandonment of adult accountability, and closer to a simpler way to live.
As for that straw that breaks the camel's back – maybe it's only a strain and not a break. More of a strain on some days than others, and a reminder to rest, rather than run.
You May Also Enjoy