Gearing up for the Big Game? Planning the snacks for Superbowl Sunday?
Um… What about those New Year's resolutions? You know the ones – nutritional eating plans, no junk food… Is it possible to to strike a balance between fun food and healthy habits?
Other than my fave-of-all-time vegetable chips from Trader Joe's, I only have one recipe of my own to offer, and it's this: Skinny and Sumptuous Spinach Dip.
It's easy! It's delish! (And there are a few other recipes here from around the web you might enjoy.)
Need help figuring it out? It's not rocket science, believe me. Besides, when it comes to making dip? I go for quick, low-budget, and a modified version of all the others that require more time, more ingredients, and far too many steps for me to deal with!
Skinny and Sumptuous Spinach Dip
Ingredients:
Fresh (organic) spinach (5-oz. container)
4 tbsp. (organic) light sour cream
1 or 2 cloves of garlic, minced
2 tbsp. shredded mozzarella
Pepper and / or garlic pepper
Directions:
Lightly steam the spinach until barely wilted.
Drain. Chop. Toss it in a bowl.
Add the light sour cream (more or less, depending on your taste).
Add the minced garlic. Add the shredded mozzarella (more or less, to your liking).
Mix! Serve with chips! Eat with gusto!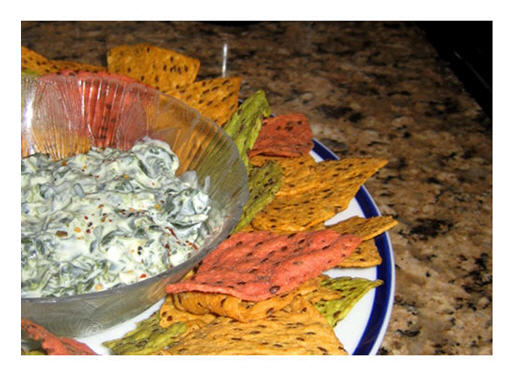 Yup. That's it. (Those chips are flashy, aren't they? But so good!)
Preparation time? Moi? 10 minutes (and I shredded the mozzarella myself). The cost? $3 to $4, depending on where you pick up your spinach, cheese, and light sour cream. The chips are $2.49 (and no, I have not been compensated by Trader Joe's, I just love the chips). Serves two to four people (remember, as a snack).
More Healthy Superbowl Sunday Snacks
Other healthy Superbowl snacks?
Huffington Post features a number of healthy snack recipes, including an artichoke spinach dip that sounds wonderful (but I admit, I haven't the patience).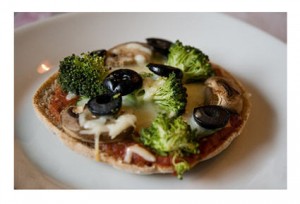 Fit Sugar has more goodies (both sweet and savory) than you can shake a (carrot) stick at! Their Mango Red Pepper Salsa? I may dance my way to the market to make that one right now! Their 120-calorie meatball? (I think I may marry it.)
Then there's this mini veggie pizza on a whole wheat English muffin, discovered on Flickr, complete with its recipe. Looks fabulous, versatile, and easy. I would be adding tomatoes, red and green pepper, red onion, and no doubt – a touch of fresh garlic.
Also be sure to check out recipes at The Kitchen Witch (for everything sublime), and of course, the Food Network and Epicurious.
Miller Time? No. Confession Time
I'll fess up. I don't like (American) football. I rarely watch the Superbowl (though I've been known to watch the commercials). But I love any excuse for festivities. So round up the kids and the friends, switch to Netflix if you prefer that to Game Time, and snack on something healthy this weekend!

Image, mini pizza, http://www.flickr.com/photos/hlkljgk/3927478472/ under a Creative Commons License 2.0, some rights reserved.



© D. A. Wolf
Big Little Wolf's Daily Plate of Crazy