I am typing slowly and will keep this to the point. It's been a rough morning of the sort we all have routinely. And I am rolling with the punches – in a way that is unlike me.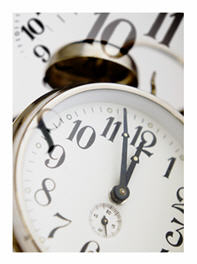 I was out of the house early for an appointment, followed by a list of errands that had been put off. I allotted time to accommodate everything, but at a nearby intersection of major thoroughfares, one cretinous driver blocked several lanes of traffic – clearly having attempted a turn after the light had changed.
I sat patiently through that irritation, and five minutes later near a merge of several roads and an off-ramp, yet another moronic maneuver by someone in front of me blocked two lanes in similar fashion.
I generally don't use my horn. I also (generally) don't gift those who annoy me with hand gestures of the digital sort. But as I realized that now I would be late, and when the man behind me hit his horn, I began to gesticulate at him.
Angrily.
Then I blared my horn if for no other reason than to register my discontent. And you know what? I felt better.
Imagine the Worst that Can Happen
I took a breath and resorted to an old trick – imagining the worst that could happen.
I would be late. My day would run late. Hardly the end of the world.
The traffic eventually let up, I apologized for being late to my appointment, and Planet Earth continues to spin on its axis as usual. Several hours later I was home and putting away groceries, without incident. I was settling in with the computer and a full day of tasks, coffee brewing, and bread in the toaster.
One piece of wheat stuck, stubbornly. Trying to jiggle it out, I placed my thumb on a metal strip and burned it.
Badly.
Fuck.
And then, the rush of anger.
I ran a stream of cold water over my thumb, and as the pain eased (and the blistering began), I realized that everything would be slowed (or late) as a result, since working on a computer requires 10 dynamic digits.
Reprogramming for Better Habits
Tears welled up – not pain – frustration. And growing fury at myself, as I saw my day spiraling out of control without a fully functioning thumb.
But here's what I did differently, and what I typically haven't done in the past.
I didn't characterize the entire day as a loss with an exasperated proclamation like "It figures!" In fact, I didn't characterize the day at all – only the burn, as an accident from lack of attention, and that, in part, because I was already feeling the time stress of the day, set in motion by the traffic problems this morning.
I recalled a book excerpt I was reading recently, by Ashley Davis Bush, called Shortcuts to Inner Peace. If you know me, this isn't my typical reading. It's something I happened upon unintentionally.
The book deals with managing everyday stress, and the pages I glanced at touch on exactly the sort of morning I experienced, and how to stop it in its tracks.
And I did.
Changing Directions
Rather than allowing a simple accident to darken the rest of my day (and set off a chain of mishaps or other events that go from bad to worse), I took a deep breath and considered how I could slow down and change direction.
In some positive way. 
I kept my thumb under the faucet for a long time. It hurts. I'm typing slowly. But rather than remaining aggravated, I've decided this means a focused and unedited post (here), and a day spent reading, researching, and telephoning.
I will make it a productive day, engaged in other productive activities. And meanwhile, I'll ice my thumb and hope it's better in the morning.
Anger Management, Adult Attitude

When you're angry, you can turn the anger inward, outward, or release it in a way that provides some relief but causes no harm – as in blaring a horn.
In my experience, women are more likely to turn anger in on themselves – we inadvertently injure ourselves, we overeat, we drink too much, we take on responsibilities and blame that we should not. Many of the women I have known engage in these self-destructive behaviors – violent behaviors in some ways, to their own bodies and emotions.
It's a cycle we can stop, if we're aware of it.
What happens after the initial response to being hurt or angry is, to some extent, within our control. Today, just now, I proved that to myself. We can change those unhelpful habits, no doubt with practice.
When you're stuck in traffic and there's nothing you can do, how do you manage your stress?
When you're angry, do you stow the feelings somewhere or let them out? Do you swear aloud or under your breath?
What techniques do you use when hurt or undermined by something beyond your control, so you don't let it impact your entire day?