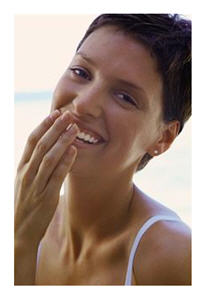 No matter what the time, the place, the circumstances, generally, it's good for what ails you.
Laughter.
Seriously!
It can't hurt, right? Except maybe after a C-section or hernia repair. After all, there's nothing quite like side-splitting, gut busting, uproarious letting loose.
I say again: Laughter!
Or maybe you prefer a tiny titter from Twitter?
Yesterday I spent a few hours in the company of someone who is – simply stated – a hoot. He makes me smile, snicker, chuckle, giggle and wriggle, rolling on the floor (or any other piece of gravity-secured furniture) laughing. Oh, it does a body (and mind) good!
By the way, not one to pass up an opportunity for a mini-language lesson, care to know a few entertaining expressions for a Laugh Riot en français?
French Expressions for Laughter
Now, now, we won't be losing our heads. But when we find our funny, we do tend to laugh our asses off in (American) English. Here are a few colorful corresponding (and admirable!) Franco-phrases:
Rire comme un bossu – To laugh like a hunchback! – in other words, laugh your ass off
S'amuser comme des petits fous – Laugh like little crazy people, or, laugh your ass off
Se fondre la rate – Laugh until you melt your spleen (presumably like side-splitting laughter?)
Se tordre de rire – To convulse with laughter
Mourir de rire, Crever de rire – To die laughing
Eclater de rire – To burst out laughing
Un fou rire – Wild laughter
MDR (Mort(e) de Rire) – LOL (Lots of Laughter)
Laugh Much?
And your latest laugh track? Your funny friends? Or are you the funny one in the crowd who elicits smirks, quirks, and the perks of a chuckle or a chortle? What makes you laugh?
It's surprising (and not) how much laughter makes whatever ails you disappear – at least for awhile. So if you're hankering for a hit of happy, hang out with a friend who has a sense of humor. Indulge in wicked wordplay or playful pranks. Go raunchy, go slapstick, go absurd – whatever is your pleasure.
Because laughter really is the best medicine.

Big Little Wolf's Daily Plate of Crazy