You're dashing through Kroger and stuck in the check-out line, you're tapping your foot as your eyes settle on headlines in the news stand, you're trying to look away but the words are impossible to ignore. You know the ones – those that blare the sluggish (dare we say, nonexistent) job growth during the month of August.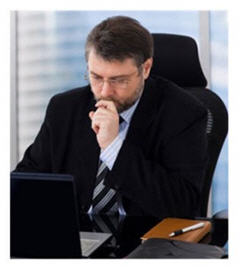 But the numbers concern you.
Of course you're trying to stay upbeat because you're fighting, well… depression.
Aren't we all?
There is the New York Times article summarizing the economic doom and gloom, which only confirms what you've been aware of for years – painfully, and personally – and you ponder the Labor Day break and know there is no break when your labor is seeking labor.
Paid labor, that is.
So you shuffle through your line and scan circulars with perky reminders of a colossal clearance here and a seasonal sale there, and you vaguely remember you once enjoyed shopping but your reality is about more pressing agendas: perpetual self-marketing, emotional stamina, Rob-Peter-to-pay-Paul financial finagling.
Dangling over a precipice.
But you smile, you force yourself out into the world, you hold your head high. Because you never know when opportunity may knock.
Yet you move like an alien among "the others" – aware they have their own worries of course, but a pay check isn't among them.
Data Data Everywhere
Knowing that data is meant to illuminate, knowing that data often obscures, knowing that data doesn't put a face on the problem, you nonetheless retreat to your reading when you can stomach it, even as one paragraph grabs you by the throat and will not let go:
"The general unemployment rate, which counts only people who looked for work in the previous four weeks, held steady at 9.1 percent. A broader measure that includes people who have looked for work in the last year and people who were involuntarily working part time instead of full time increased slightly to 16.2 percent. The percent of working-age adults who were employed, already at its lowest rate since 1983, was at 58.2 percent." 
But you set aside your data depression and slip instead into your presentable persona: there is a dinner party to attend with friends of friends, and you participate in discussion that runs the gamut from Sex and The City to European travel, from local real estate values to international marketing, from marriage to divorce to single parenting, and finally, to dreams for retirement.
Dreams indeed.
Making a Living, Making Up a Living
Naturally, at one point there is the requisite "what do you do for a living" and your usual response of "I'm a writer" and then the equally routine assumptions that there is plenty of (glamorous) work and certainly a (good) living to be made.
Do you leave it alone? 
You opt for a brief mention of evolving industries and professions, of a once-upon-a-time workforce in now struggling sectors, and having dispensed with Darwinian economics, you are relieved when you light on more frivolous fare after drinks at the coffee table and dinner in the dining room even as you glance around and make conversation inside the cocoon of this dutiful double life.
You nod and chat and wonder how many millions play this game and how many more months or years you can manage to keep it up – the public face, the private hell.
And so it is Labor Day and you feel nothing much which is, in and of itself, a break; the anger or impotence you generally experience is quiet. Yet data dances through your head as the sun shines and picnics beckon, as your dreams have little to do with retirement and everything to do with a year-end W-2 instead of the occasional 1099, payment for your skills and knowledge, currency in your palm, and the self-respect that comes from tangible recognition of the value of your labor.

© D. A. Wolf

Big Little Wolf's Daily Plate of Crazy