The toilet seats are down, as they should be.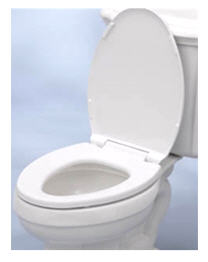 Then again, I don't care.
Never did.
I have few constraints in my space; I suppose I should be dancing naked through my house, or behind it, or even on the quiet street where it's rare to see anyone except on Saturday when lawns are mowed and weeds are pulled and I actually step outside to watch the passersby, including young women pushing babies in overpriced strollers.
Fully dressed, by the way. Babies and women, both.
Naked through the house?
I can.
But I won't.
Don't care.
Never did.
I suppose there are many things I could do now that I couldn't do one week ago.
Seven little days. Seven days of sorting and shopping and washing and discussion. Seven days of tickets and credit cards and keys and queues. Three days of a beautiful college campus, soaring edifices and welcoming brick, rolling lawns and interminable steps, and a special time assisting my son as I witnessed him standing straighter and growing taller, filling out his sense of self right in front of my weary eyes as my parenting took a back seat.
As it should.
As it must.
Now there is the plunge into my own known and unknown circulating: the cleaning, the organizing, the projects, the passions. It isn't that I cannot articulate, enumerate, and substantiate the whys and wherefores of each necessity and possibility – but I won't. 
For now.
They seem inconsequential, as I grope for a "new normal."
I suppose I won't find it in two days, or three, or even two weeks. But I know I'll find it.
The fact is – I'm not feeling down or up or much of anything, except tired.
Too tired for dancing naked through suburban streets, for dancing naked in my cottage kitchen, for samba or tango or celebratory moves of any sort, in any attire or none at all. Instead I'm wrestling with tasks and ideas and items on a checklist that remain maddeningly out of reach; by virtue of an unreal and elusive quality, ephemeral even if they're not.
I wonder why I cannot focus.
I tried going fishing, metaphorically speaking, though I only managed a single day.
For now, I suppose I'll wear my loosely-fitted jacket of fatigue until sleep arrives to unbutton it. For now, I suppose I'll tend to the messes created in our packing pandemonium. For now, I'll look forward – even if my sights are uncommitted to resolve, if only because forward is the most practical direction to take. And focus will return in due time and maybe then, I will dance naked through the house like mothers and fathers all across the country reclaiming a measure of time and self.
Because I can.
Because we can.
But not just yet.
You May Also Enjoy