This was too juicy to pass up. Apparently 46-year old supermodel Linda Evangelista is asking for $46,000/month in child support from the father of her 4-year old son.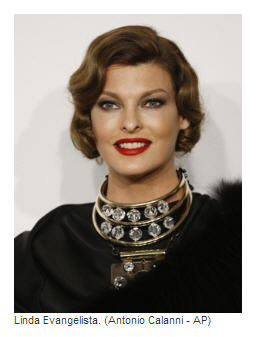 Who is dear old dad?
None other than François-Henri Pinault, the current (billionaire) French hubby of the ravishing Salma Hayek, with whom he also has a 4-year old child.
I first found out about this news item while cruising the Roundup at Circle of Moms, and I followed this tantalizing true tale on the Wall Street Journal's Speakeasy blog. I strongly suggest you read the WSJ piece. It's brief, informative, and frankly – funny.
So just exactly why is this too good to pass up – whether you're single or married, man or woman, live in New York (like Ms. Evangelista and her son) – or anywhere else?
For one thing, the WSJ headline offers a common misunderstanding about child support and its usage. Its title reads:
How does a four-year-old spend $46,000 a month?

What Is Child Support To Be Used For?
Very catchy, but child support is not about the child spending anything. Child support is money given to the custodial parent in order to cover necessities to support the child, including:
food
housing
related housing expenses
transportation
education
doctors, dentists, other health care
childcare (daycare/sitters)
clothing
In other words, the basics of raising a child – to be provided one way or another, by one or both parents, or some other adult.
Many have misconceptions about how this money is to be used, and some insist it should be given to the child – and not the custodial parent.
Right.
Because a 6-year old or 10-year old or 14-year old knows how to pay bills in a household. Because that same kid can assess childcare options and medical procedures and the cost benefit of braces versus summer camp.
Oh, that's not what you mean?
You don't think a 6-year old or 10-year old should make these decisions, but possibly a teenager should? A teen with his or her fine sense of proportion, judgment, and experience in the world?
After all, we know that a 14 or 15-year old can make smart choices relative to priorities, or anything else to do with a proper upbringing. Because a teenager will deem the $4,000 to $5,000 / year for car insurance to be more critical than mundane expenses like property taxes (that pay for public school) or homeowners insurance or possibly a tiny nest-egg to cover the costs of applying to college.
Because financial decisions are so easy for adults – not to mention taxes and budgeting – so why not hand over the money management to the kids and be done?
Kids Cost, But Then Again
Now let's look at this (seemingly) gossipy news item from another angle. It's dishy, isn't it? This once-upon-a-time transitional triangle of Evangelista, Hayek, and Pinault?
Had Ms. Evangelista been the lady to land the luxury goods magnate in matrimonial bliss, how much might he be spending on their child? Does that have any relevance to what he ought to pay in child support? Or should we just scan the billions on the balance sheet and say yes $46,000/month and get over it?
I suppose you could ask the man or woman on the street and obtain opposing views. Maybe the New Yorkers would agree that a half million is needed for a nice life in Manhattan. Maybe the rest of us find that amount of money obscene – Papa Pinault's ample accounts aside?
Maybe we should think about the fact that these are the support cases that get the attention, when millions of custodial parents are trying to scrape by on a few hundred dollars a month – if they can manage to collect it.
Might you wish to see a more thorough summary of the history of child support guidelines and its challenges – including clear positioning of its problems in consistent application? How often does a non-custodial parent fork over more in a car payment each month than in support for his own son or daughter?
Then again, I doubt Monsieur Pinault has a $46,000/month car payment.
Do The Math
Hey – I know we're still in a recession (no matter what we call it). And parenting is expensive! I've been quoting the gnarly numbers for the past few months, and that figure runs in the vicinity of  $227,000 per child, from birth to 18 – and not counting college. And I have my doubts about the reliability of that statistic.
But a request for $46,000/month – to live anywhere – as necessary to providing for a child?
When we do the math on the $227,000 figure (for us average folk) –  that's roughly $12,500 per year, per child. In other words, about $1,000/month, per child.
Whether that amount is accurate or sufficient depends on where you live and how you live. It depends on whether or not there are two parents in the picture, income and expenses of each, with basic health care and child care as primary factors. And keep in mind that just because a parent is holding a job does not mean he or she is receiving benefits; independent workers are not eligible for unemployment and they don't receive medical/dental/vision, much less disability, minimal life insurance, or anything resembling a retirement plan.
And by way of example, the cost of purchasing medical insurance on your own is a function of age – $200/month for the healthy 35-year old may be $700/month for the healthy 50-year old. And that's not counting the kids!
But who can afford health care without some sort of insurance? How many can afford it with insurance?
But $46,000/month? Forty-six times the "average" figure? That's over $500,000/year for a 4-year old. I'm guessing Ms. Evangelista might want more when he hits first grade, or middle school, and last I read, she was still modeling and making a nice living.
Sexy Celebs, Sensational Stories
Sure, New York City is expensive.
Sure, with a billionaire papa, you could say half a mil a year is small potatoes.
But what does any of this say about our priorities? Our land of money magic to cure all ills? What does it say about our family courts and how they are inured to the plight of middle and lower income Americans because star-struck sensationalism gets the spotlight? What does it say about any individual who thinks this is reasonable – to the manor born or otherwise?
Naturally, we're drawn to this story for its excesses and sensationalism – not only the striking sum requested, but the fact that Evangelista only recently revealed Pinault as the father. Arguably, we're dealing with one of the world's most gorgeous and sexy women (Hayek), and quite possibly, two. And then there's the fact that Daddy Dearest impregnated both women in the same year.
So we read about the beautiful people.
We roll our eyes and  we shake our heads.
The men make snide remarks about money-grubbing women, the women mutter about irresponsible men, and we all lose any sense of proportion relative to values and value, common sense and sensibility, and the real issue – what it takes to raise a child. And that's two parents if possible – both respectful and responsible about their parenting duties – preferably with their presence, and yes, with their finances.
Shame On Us
Parenting isn't about money; we know that. And the experience itself? For most of us – priceless.
But parenting requires money. More than we realize.
$1,000 / month to raise a child, on average?
That certainly isn't the case where I live. That certainly isn't the case in any major city. And if you didn't realize, state-specific support guidelines are all over the map, a function of the income of both parents, special circumstances (nicely amorphous), and judicial discretion.
Theoretically if the financial picture changes, support orders can be modified. But that may require an attorney, more months in court, and thousands of dollars which the custodial parent doesn't have.
So then what?
Do the needs of the child change, or does the custodial parent take on a second job (if she can get one), relinquish a sitter (creating a latch-key kid), move into a tinier apartment in a less safe area, or do without any medical insurance for herself and her kids because she cannot afford it? And if she loses her one job, her two jobs – Ill ask again – then what?
And while you're at it, ask yourself again if child support – such as it is – should be paid directly to the child.
Then again, we're so entertained by these high profile cases, it's a good diversion from whatever ails us, including broken trust in our institutions and the over-used phrase – "best interests of the child."


© D A Wolf

Big Little Wolf's Daily Plate of Crazy