Perhaps I'm feeling inspired. Or uninspired. I'm not entirely sure why this question popped into my head the other evening, but it did, and I put the query out in a few places hoping to expand my own set of voices to stir, to excite, to inspire.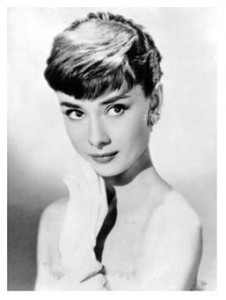 I ask myself who inspires me and run through the film of my life in image and event, plucking the moments that motivate with words or actions to be better, to do better, to perceive differently; to stretch myself into new configurations.
Initially I anticipated identifying women who play an inspirational role in my life. Then I consider my childhood, and realize the first people who come to mind are Henry Miller (as a writer) and Audrey Hepburn (as a style icon).
But otherwise?
I frequently ask myself questions without answers; in part I do this to travel the process of uncovering more questions, to taste their pleasure, and to wander what may be a fruitful path.
Yet I find myself at something of a loss, and that speaks volumes. Where have my heroes gone? Surely, once, I must have had some?
I cannot seem to dredge up a single "famous" person – living or dead – who serves as a model that is applicable in my own life. That saddens me.
Real World Women
Our dictionaries tell us that inspiration is something or someone who incites ideas, who stimulates, who stirs. I would expand that to suggest that inspiration stirs something in us to see newly, to act toward a purpose, to refashion ourselves; to "tweak" our immediate world, or even seek to rebuild it.
As I think beyond the literary and artistic luminaries who have brightened my days and nights, my own inspirational figures tend to be "ordinary" people.
My first thought is of the piano teacher in her 60s who has taught hundreds of children, including my son. She is wise in the ways she encourages him to think beyond measures and beats; she uses gentleness and discipline, stories from her life, questions – always questions – with no need to respond with a prescribed answer. This remarkable woman exemplifies living a modest life but one that is full of meaning; she has pursued her passions (music and teaching), raised two children, given to herself and given back – with joy.
Words To Live By
There is a poem by Pablo Neruda – Emerging – and its words inspire me every time I find myself in a tangle of confusion over the machinations and responsibilities that hold us in our disarray. The human complexities of dealing with each other, and hanging on to our dreams.
May I count him as inspirational? Or should I generalize to the influential writer, the jubilant artist, the poet with whom we form a life-long connection?
Could I add my own sons to the list?
There have been periods in my life when my children inspired me; they were my reason for getting up through pain, for smiling through depression, for standing strong with obstacles in our path. Their laughter encouraged my own, their questions ignited wonder, they kept me going, they gave me purpose.
Yet I wonder who inspires my children? Whom might they inspire when they become adults?
Tweaking This, Tweaking That
I do not believe we stand still. I do not believe we lose idealism without internal turmoil. I tweak myself, I tweak my views, I tweak my outlook with each day's curiosity and the occasional epiphany, with the shifting revelation and the knowledge of its mutability.
I look beyond my windows for sources to inspire. I fight cynicism, and I know it. Yet I am rich in the encounters that continue to reshape my vision, and offer examples that encourage me.  

Who inspires you?
What jobs or professions inspire you?
Do you still believe in the power of the poet, the dreamer, or even – the statesman?