Smallville, USA, 11:00 a.m. Eastern, July 4th.
In what is thought to be an emerging fashion statement (or symptom of a rare disease), news sources in Smallville, USA report sightings of middle-aged men in berets. Moving quickly through crowds of holiday revelers, smartly cycling men eluded authorities who continue to search for these furtive figures in hokey hats.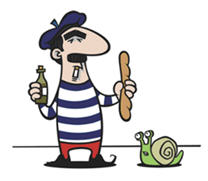 Although students at the Fashion Institute of Technology in New York have suggested that this may be a tawdry turnabout in sartorial sensibility, Smallsville spokespersons tell citizens there is no cause for alarm. However, the Centers for Disease Control (CDC) in Atlanta reported sightings there as well, exacerbating fears this may indeed be an odd outbreak associated with Male Midlife Milliner's Microbe.
According to Ada Friend of the CDC, the highly contagious disease generally affects men over the age of 50.
Just in… Numerous documented beret sightings in middle-aged men are pouring in, from as far North as Middlebury, Vermont, and as far south as Vidalia, Georgia.  

While most Americans have seen photographs of style icons like Brigitte Bardot and Marlene Dietrich in berets, and of course, literary and creative types like Jean-Paul Sartre and Picasso, it remains unusual to spot faux French among the picnicking and parading crowds on our national holiday.
The CDC notes that the severity of the affliction may be determined by the manner of wearing the traditional cap on the head. Firmly set straight across the hairline indicates early onset; tilted for rakish appeal suggests that the disease is progressing to later stages.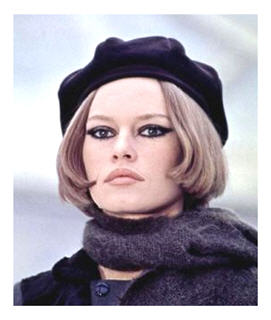 "I had a near encounter," says a 44-year old mother of two in Charlotte, North Carolina, who appeared shaken following the incident. "I quickly averted my gaze and crossed the street. Red scarves and striped shirts? I'm all for saucy summertime socializing, but I was… well, a little disoriented."
Fashion expert Tim Gunn offered this: "It begs the question. Is the beret acceptable attire at any age unless you're herding sheep in basque country, parked in a provincial café with a Gauloise stuck to your lower lip, or a born again socialist? I have my doubts."
This reporter goes on to pose the question as to whether Millennial men should wear hats at all, much less those over 50 – wear berets. Wouldn't we be better off with the American version of manliness à la 1940s?
Ada Friend insists that the trend will not reach epidemic proportions, stating that the illness will eventually run its course with no harm done. (The CDC spokesperson reminds the public of earlier breakouts of Rhymatoid Artwriteus, which caused only temporary domestic disturbances, and no fatalities.)
She concluded that this is nothing more than an attempt to appropriate the assumed attributes and amorous affectations of the irresistible French man.  "After all," she says, "Don't we love an otherwise dignified gentleman with his hair held in place by the tightly fitting crown of a woolen and weatherproof felt cap?"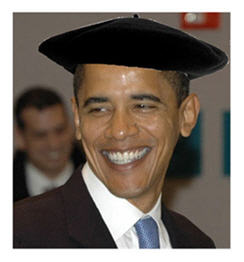 Ms. Friend adds that the latest rumor concerning the birthplace of our own soon-to-be 50-year old President should not be brought into the discussion, despite this recently unearthed image that shows a smiling and fit Commander-in-chief, with unexpected headgear.
Could this be a means to return the cachet to the beret, and encourage our own milliner's market segment?
What should the middle-age man wear to attract the ladies, or stand out in a crowd of flag-wavers? What woman doesn't love the way a man acknowledges her – with a tip of the brim in her direction, as she hopes that conversation may follow?
Readers are asked to weigh in, and to report anything suspicious to local authorities.
Should middle-aged men be trend-setters or trend-followers?
Shall we bring back hats, and other accessories suggesting days-gone-by?
Must we call in the Donald to discern if Obama is from France?
And your holiday celebration? Any unusual encounters?

Big Little Wolf's Daily Plate of Crazy