May I interest you in some Crunchy Frog? A cheeky delicacy, covered in chocolate of course, compliments of Monty Python.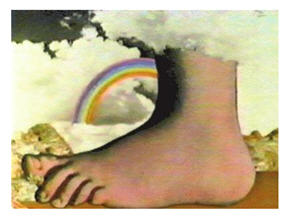 No?
Perhaps you'd rather check your wainscotting for the presence of killer sheep? Might you seek to replace your dead parrot? You know the one – blue – returned to Bolton, and originally nailed down to the bottom of the cage. Right. That's the one!
Or might I charm you with some naughty bits?
Yes. I confess. I'm behind the times. But better late than never, no? While I've been aware of Monty Python's Flying Circus, not to mention the assorted talents of John Cleese et al, only recently, have I been enticed, seduced, enthralled, and captivated – malevolently, devilishly and intoxicatingly hooked on blancmange, tennis-playing Scotsmen (very Wimbledon, don't you think?), not to mention Attila the Hun (helping his children get a-head), Self-Taught Idiots, and the classic Ministry of Silly Walks.
Dare I say that when I can't sleep, those long hours seem oh-so-much-more-palatable with an IV of comfy chairs and revisionist world history?
For your holiday weekend pleasure, may I recommend the Monty Python channel on Youtube? Do take your time and play through. It's delicious stuff.
And speaking of delicious, couldn't we all do with a tasty treat of delectable dessert? A bit of crunchy frog?
Any favorites you'd care to share? If not – no worries. Wishing you a dandy dinner of Spam, Spam with Spam, or Spam Spam Spam and … Spam.
Don't like Spam? It could be worse… Remember – always look on the Bright Side of Life!