Do you remember the first time you fell in love? Or perhaps, the most recent? Do you recall the complex cocktail of emotions involved – not the least of which is awareness of your vulnerability?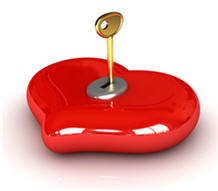 What about the loss of appetite? The dreamy distractions? Too little sleep?
We all know it's impossible to predict the future. Most of us have enough difficulty processing our present, and planning for the coming week. As for the concept of growing old together? Well, let's just say that's not a given, particularly when you look at the decidedly depressing divorce statistics, with one out of every two marriages failing.
So is love an impossibility? Are we naive in our expectations? Have we lost our facility to discern what is real, and to live up to our own potential for caring? Has contemporary life overburdened our once healthier hearts and more innocent social institutions?
Do you use the word "love" easily – or even carelessly?
The Healthy Heart
As adults, most of us are familiar with falling in love, not to mention acts of loving in various forms. We love our families, our friends, our spouses. When love ends, some of us close up shop following devastating losses – the death of a husband or wife, or a miserable divorce. When love matures, some of us move on, searching for new fireworks.
Whatever the cause of a relationship's demise, thankfully, most of us are nudged back out onto the playing field. Our emotional capacity is more expansive than we realize. Isn't it human nature to seek connection – even if it means a measure of fearlessness in getting back out there?
And then what?
We're caught by surprise. We fall in love again.

Maybe you know the excitement of unexpected romance – the man or woman who wanders into your life, lightens the load, brightens your outlook, and wanders out again. Maybe when it comes to love and sex, you're still working on understanding the nature of your connection, not to mention what you really want out of a relationship.
Many say that physical intimacy solidifies emotional closeness that we've taken the time to construct. Some have difficulty separating sex from lovemaking, though certainly not all of us; we know lovemaking is rare and another matter – more than a fiery fusion, it is an offering of vulnerability.
Passion, Intimacy, Taking a Chance
These days, as my world reverberates with changes – some subtle and others, less so – I realize that I possess few protections to fall back on, in terms of people or resources. When it comes to feelings, trusting another adult with my "whole self" is unfamiliar territory, but it isn't unwanted territory.
Sharing oneself can be frightening at any age. Yet any profound emotional engagement involves vulnerability. Necessary vulnerability.
So what about it?

Big Little Wolf's Daily Plate of Crazy