Have you ever tried the see-saw? Do you remember the pleasure of riding up and down, up and down – but only enjoying it if your friend on the other side was of similar size and weight?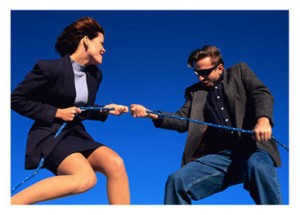 When the balance is a mismatch, you are more likely to pop up in a jerky fashion (and be left there), or, to be unable to successfully get off the ground. Your partner in play can resemble anyone or anything, of any age or gender – but he or she must be close to you in size and weight for the experience to function – and be fun.
What of the tug-of-war, a more blatant competition? Do you prefer the see-saw, or the test of wits and strength – along with the option of winding up face first in the muddy trough if you lose?
What do you learn from endings?
What do you learn from friendships that end, from relationships that splinter, from marriages that simply peter out?

What happens when life circumstances toss everything up in the air, and when the pieces settle, your life no longer resembles its former configuration?
As an adult, how do you react to the see-saw effects in relationships, not to mention the tugging power plays and wrenching compromises?
I have written of the need to say "no," and how I've improved on a tendency to say yes too often over the years. When I fall back on old habits, I work to re-learn the art of "no."
In general, I try to learn from each experience with friends or partners, and certainly with my children. While looking to the past (and living there) can be indulgent, it is also instructive if we do not dwell, or beat ourselves up over being human – and fallible. We can see our patterns, and try to change them.
Settling and Equality
There is much written about women "settling" for men – and settling is a word I dislike in the context of male-female interaction. But you know what I mean – finding someone who is "good enough," rather than all-the-heart-desires, or what your girlfriends think you should be looking for.
This is especially true as women age, as we carry more "baggage" – another term I dislike – or perhaps unrealistic expectations. In my experience, men are given the "you should settle" advice less often; their sweep of possibilities is broader. It's demographics and social convention, and we all know it.
Looking to the playground – watching games and recalling their dynamics – offers ample illustration of the problems when inequities are involved. Some might say – inequalities. There again, I don't care for the phrase that a woman should "find her equal" – or worse, that she deserves her equal; there is judgment, entitlement, and lack of precision in that sort of easy comment.
What I do believe in? Men and women need to find appropriately balanced partners. How else can the see-saw be enjoyable for both? How else can the tug-of-war include fair play?
Compromise
We all make compromises in relationships. It is the imbalance of compromises (work, decision-making, and so on) that will fuel resentment – when those compromises are assumed, or go without appreciation.
Part of what we learn in each new pairing – with a friend or a loved one – is the rhythm of that necessary give-and-take that allows the relationship to thrive.
Are we constantly asking our partner to give something up? Are we doing so through our actions, if not our words? Is the other in the driver's seat all the time – insisting on control or being right – leaving us face down in the mud, or high and dry on the end of the see-saw, unable to get our feet back on the ground?
Balance of Power
There are good men and good women who have yet to find each other. Some have baggage and I say good for them. With life experience comes compassion. With time, we let go of preconceived notions about who we should love and what he or she might look like. Credentials. Height. Hair color. Career choice.
I don't believe we need to seek the elusive "equal," or that women must feel they are finding a superior provider (the proverbial "marrying up"). I think we are better off recalling the lessons of the playground – and what makes for fair play, and genuine pleasure. To me, that means a suitable partner for the see-saw, or the unavoidable games of tug-of-war.


© D A Wolf

Big Little Wolf's Daily Plate of Crazy