Did you paint the town red this weekend? Party hardy? Maybe you painted the baseboard trim instead?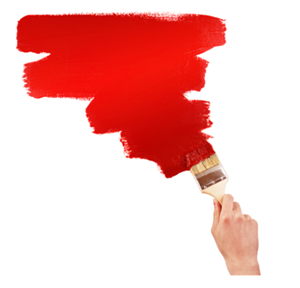 Given the toss up between movies and digging out the glossy Glidden, I went for a mini-marathon of film faves on Sunday to unwind. It was great!
I also did a little puttering around the house, pondering the touch-ups that would perk up my thresholds, and make the walls pop.
Red red red!
Doesn't a little bit of paint perk up your interiors, and your mood?
Don't you find the calming effects of dipping and brushing to be incredibly soothing, once you get into the rhythm?
I won't say I'm beyond imagining kicking up my heels (Bonjour, Air France?), but a few months back I handed one of my teenagers a can of paint, a packet of brushes, and an armload of newspapers to use as drop cloths. In two hours, he had freshened up a small hallway and a few doors. He may not have been impacted, but it was a huge mood enhancer for me.
And a little stroll through my place has me thinking about that. And the benefits of brightening – with a fresh coat of paint.
The benefits of brightening
Whether it's your teeth, your make-up, the color palette in your bedroom, or a little trim – literally for a few bucks and a few hours – brightening up your space (or your face) is an easy pick-me-up.
Don't we all benefit from a little external electricity that oozes inward and affects mood, confidence, and energy level?
I am a big believer in our interiors affecting our… interiors. And I for one adore red, and have plentiful bursts here and there. While I may not take the horse hairs (or synthetic ones) to ruby red for a wall, I'm definitely considering washing the wintry doldrums out of my hair by lightening and brightening something around the place.
Red hair or red chair?
Have you ever chopped off all your hair on a whim, or maybe taken to a box of Clairol to change things up? I admit – I've done the former but not the latter, though I indulged in temporary hot pink hair in my twenties – with the operative term being temporary.
And it was fun!
Now in this lightening and brightening mood, would I dare to add flair to my hair? Hmmm. I do love the ample audacity that seems to inherently belong to the redhead, but I don't know that I could carry it off. And I already have chairs covered in a fiery hue.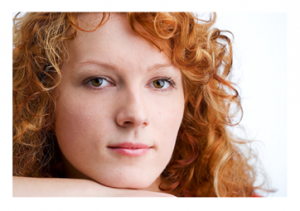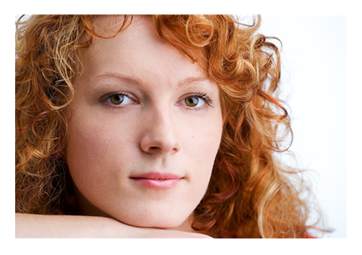 Does that mean I'm back to walls and baseboards? Something to make the reds pop and the entire environment seem fresher?
Hot hair?
Back to that red hair… would I dare?
I'm not convinced that blonds have more fun, but I do recall a red-headed friend who had many an adventure. I blush just thinking about it. (Yes, I blush.) Perhaps a few streaks of red in the long locks after all? A little flash and splash?
Or should I just stick to white trim, the hypnotic motion of the brush moving back and forth, back and forth, and the pleasure of accomplishing a task that is strangely satisfying?
What do you do when you're in the mood to brighten and lighten?
Do you go for interiors? Hair? Face?
Do you paint the town red?
Or is it shoes, shoes, shoes?