Bad Habits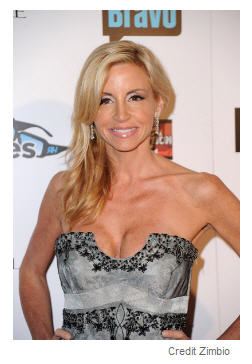 Okay, so send me to my room without supper. I watched the Real Housewives of Beverly Hills last night. The big moment was approaching!
The Kelsey-Camille Kiss Off.
How could I miss that? And might we actually see the real Camille, when vulnerable? Might we see the Real Kelsey – the one we've come to know bits and pieces of through the marvels of the media?
Surprisingly, the reference to "the phone call" was downplayed. A measure of good taste, which frankly, I was grateful for.
So is all this anything more than pop culture fodder? Human nature, when observing the very rich, to see if they're like "the rest of us?"
In some ways, maybe they are. Behind closed doors, all glitz and glam and nannies and estates aside, every couple has their issues.
According to Camille, Kelsey called and more or less pronounced the marriage DOA. He said it was over, but he needed her to appear at the Tonys with him. His bargaining chip to persuade her to do so (according to her) – "we'll get some time together and we'll see what happens."
Real reality?
Camille looks tired and subdued as she goes through the motions with friends, and she says:
I had to put on a happy face and pretend everything was a-okay and it wasn't.
As a woman who has been through divorce, I will say that no matter how it happens, who initiates it, what the financial circumstances may be – most of us don't avoid the sorrow of a family ruptured, and shared history tossed away.
Last evening, the episode offered a few scenes of Camille as mother, and Camille speaking in a tone that seemed more genuine. Real Camille at last? Or careful editing?
As for the soon-to-be-ex and soon-to-be-bridegroom?
According to ET Online, Kelsey is planning the next nuptials for February. And what about the latest rumors online of other honeys during his marriage to Camille? And a few other entertaining reports relative to his taste in clothing, as implied by Camille in US Magazine?
Rumors? Consider the source
Then again, anyone who has seen a few episodes of Real Housewives has seen Camille twist the truth into nasty digs concerning her co-stars. I can't say that I'd believe much that comes out of her mouth – or her hubby's.
Personally, I couldn't care less what anyone does for fun or entertainment. But I dare say this divorce will continue to make news. And Camille is doing damage control for her reputation, even as it's hard to stomach Kelsey squiring around another (much younger) woman the way he has, revving up for Marriage Numero Four.
Apparently, Camille isn't going to disappear quietly, and she's planning on fighting the rapid termination of the marriage, as it might jeopardize the manner in which their property and other financial matters are divided. According to the ET article cited above:
Camille Grammer, filed documents in Los Angeles Superior Court asking a court to reject Kelsey's request for an early termination of their marital status.
Smile through Denial
As the episode last night proceeded, we get a very low-key Camille speaking to the camera. She says:
In my heart I felt that we could work it out…  When I got married I thought I was going to be married until the day I die.
I have to admit, I could relate. How many millions of us could relate?
Whether we like Camille or not, as depicted on this show, a little marital denial – and divorce denial – is well-tread territory. And as the show closed, we were treated to a very cheesy scene in which Camille, Kelsey and friends are all toasting – to love.
A little PR for Camille? A good acting job on her part? More image reconstruction, as in her interview which you can check out on Huffington Post, when she assures everyone she's no longer in love with her husband?
Who knows what's true with any of these characters – and I mean – characters. But when you discover that your spouse no longer loves you, it hurts – with 80 million dollars in your bank account, or eight. Of course, it will hurt less when you don't have to worry about losing the roof over your head.
Still, perhaps this is why some of us are still watching – and learning.
When it comes to marriage – and divorce – we all need to pay attention, and to get real.
Photo credit: Zimbio

Big Little Wolf's Daily Plate of Crazy