Some days, no matter what you do, you're out of time. You multitask and your arms, legs, even your hair follicles – the whole kit and caboodle – it's all insufficient. Maybe Murphy's Law kicks in – no more than usual, mind you.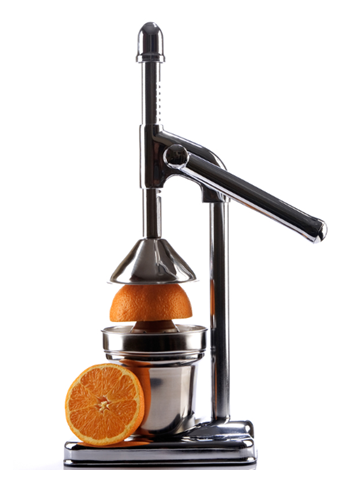 But the fact is, you're caught. Squeezed. Really squeezed – all deadlines converging at the same time, even the best of your contingency planning not quite good enough, kids stressed and pressed as well, and no solution that you can see.
It ain't pretty.
You want to throw your hands up in the air and call Time Out. Not the "go to your room" sort of time out (which you wouldn't mind at this point, as long as you are the one who gets that privilege), but the I-need-to-huddle-with-my-teammates-and-strategize sort of Time Out. Preferably with the wise words of an experienced coach to call the next play.
Only you're the coach.
And you can't find your teammates, dammit.
So your new day begins. Sort of.
Your Day Planner's cup runneth over.
Your kitchen table has disappeared under paperwork, again.
Your kid's white board, with his schedule is almost as bad as yours.
Your resource constraints – of all sorts – keep growing.
Yikes. That vice-like press is doing its job. And then some.
All around are the remnants of one of those days when you pulled out all the stops, and so did your kid, and the signs of pulpy leftovers are everywhere – stained and strained – on the trashed floor, the couch scattered with papers and CDs, the chairs strewn with clothing, mail, and crumpled notes.
You consider your day. You weren't an example of grace under fire, though an enormous amount was accomplished. But the effort it took is written all over your face and twisted through your aching muscles. Early morning went to Task List A. Mid morning to early evening were dedicated to Task List B. You cooked dinner – twice (gotta love those teens!) as evening and night moved into Task List C. Everything got done that was possible to do, but it took an 18-hour day.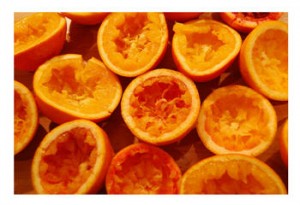 Your kid is sleeping it off, but you pick up and start again, the night spilling into the next morning, and another set of lists as daunting as the last.
Oh, it's hardly earth-shattering, but you don't feel good about yourself. You don't feel good about much of anything. Worse, though key items were crossed off some lists, too many others remain.
Nothing much has changed, except you feel as though all the juices from all your reserves have been squeezed dry.
And you pick up and keep going. What else is there?


Squeezed oranges, Image courtesy Flickr.
You May Also Enjoy