This question has been rolling around in my mind for days: On some level, do men fear women?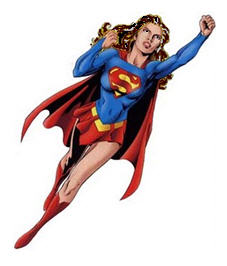 I'm not trying to be provocative. But I was reading a discussion on contemporary feminism recently, and the implications around gender-based control keep bringing me back to the issue of fear.
Don't we all try to combat fear by taking control?
Specifically, a comment I came across has been nagging at me, and it was this: What has feminism ever done for men?
Can Feminism Help Men?
Believe it or not, this bothered me. Partly, because the question is ridiculous; feminism was all about women getting a shot at more choices – those that men took for granted. But the question irked me for another reason. If women have more choices, doesn't that invariably mean that men do as well?
Granted, the women's movement in the 70s was intended to dislodge barriers to education, politics, earning power and sexual freedoms. Unfortunately, it tended to discount the value of parenting and homemaking, and who hasn't felt that particular backlash in all aspects of contemporary culture?
Yet it seems to me that feminism did accomplish something for men, though perhaps not what the gentleman who posed the question had in mind. With more choices available to women, unless you believe in a zero sum game, that means additional choices for men, too.
But for a man who fears women, even subconsciously, then "feminism" would unleash a pretty terrifying set of possibilities – women having control over their own lives, women questioning the status quo, women able to claim their sexuality, women fighting for earning parity with men, women pursuing education, and women exercising choice relative to reproduction, marriage and child-rearing, including the option not to marry.
Feminist Discourse
But to my mind, this isn't a zero sum issue except perhaps economically. And even then, only if you assume that women in the workforce will not generate new jobs and opportunities – for both men and women.
I'm not a historian. Nor am I about to whip out statistics and present a case for the feminist-based advances in social well-being though frankly, I would if I had the time.
That said, I will share a personal perspective, along with a reference to the originating discussion which took place at Huffington Post, in a compelling article by Barbara Hannah Grufferman. There, she speaks to her interpretation of feminism today, and to its underlying message of strength in diversity:
Feminism started as a movement to change laws, and the perception of women as secondary to men. But, feminism has morphed into something much bigger and bolder, with an even greater potential to affect global change… To embrace feminism is to embrace this fundamental truth: every human being has rights.

On some very profound levels, feminism has become my own personal moral compass. It guides my daily behavior toward everyone — regardless of gender, age, color, sexual orientation, creed or nationality, and I am raising my two daughters to be feminists as well.
Myth and Reality
Though I suggest that "feminism" could do with some re-branding, I happen to agree with Grufferman's position. Without saying as much, I believe (and hope) I have raised feminist sons. And by that I mean young men who value women; they would no more discriminate against a female friend or colleague than they would anyone else by virtue of nationality, ethnicity, religion, sexual orientation, or for that matter – weight, height, or hairstyle!
I also recognize that from my 70s feminist idealism, I bought into the Superwoman Myth which is, in my opinion, the worst possible sort of myth – one that is held up as reasonably achievable though it consists of an impossible set of expectations, in our society as it is currently configured. And let's be real – the whole concept is exhausting.
These days, I'd be more inclined to tout its merits if it came paired with a Superman Myth, wherein we (Super)power couples would navigate the universe arm in arm, equally committed to fighting injustice and pursuing the ever-elusive Work-Life Balance.
The Matter at Hand
Returning to the feminist issues at hand, to Grufferman's point, increased opportunities for women do offer expanded opportunities for society as a whole:
higher levels of education for women mean additional skills brought to the fore
broader (humanizing?) viewpoints in our political process (how could we not recognize the mess the world is in?)
the hope of more family friendly options in our employment structures and related laws
the hope of more single parent reality in our employment structures and laws
additional choices for parenting roles for both men and women.
Have we magically met these lofty goals, not to mention dealt with the dramas of poverty, unemployment, homelessness, much less millions of Americans without access to proper health care? Not exactly; perhaps each of those mentions should be prefaced with "the hope of" and maybe even "the likelihood of." Yet I strongly believe that women experience social ills viscerally, and know inherently that we are more likely to fall prey to them, and consequently, we are less likely to turn away from the need to address them.
Women in the Workforce
When I attended graduate school – business school to be exact – there was a relatively low percentage of women in my class. No, I don't have a statistic to quote, but this was in the early 80s. Trust me – I was surrounded by men. I also felt no particular discrimination in that setting, nor any discomfort. I like men, and I was perfectly at ease in my B-school environment.
For me, coming from a liberal arts background, the point of business school was to open doors, to acquire new skills combined with the old so I might secure international jobs, and make a decent living. I had places to go and things to do; I also wanted financial independence – something my mother never had.
Mission accomplished. Until I had children, that is, some 10 years later. Then I found myself in a situation where flexibility in my employment environment was literally non-existent, and I was married to a man who had no intention of compromising his career objectives in the way I was expected to compromise mine. I was supposed to continue bringing home an MBA income, while raising the children and keeping house.
Equitable? Not exactly, though I managed it for a number of years but was perpetually exhausted and increasingly resentful – neither of which helps a relationship.
So what do you do if your industry cannot or does not accommodate a notion of part-time work?
What about those critical employment benefits that require a certain minimum number of hours?
What if you work in a field with no flexibility, or that requires travel – and you want more time with your family?
What happens if you become a single parent, and all these concerns are compounded?
These aren't gender issues; these are family issues, and should be the concern of (smart) employers who wish to retain talent. Of course, economic times being what they are, perhaps this is moot for now. But surely inflexible employment structures, recessionary times and single parenting have added to the swelling ranks of home-based jobs and entrepreneurship among women.
Personal Perspective

My ex-husband and I had considerable differences in value systems and in parenting approach, something I didn't realize when we married. A case of rose-colored glasses? Perhaps. I thought we shared the belief that our marital life would revolve around family, in the mode of his parents, siblings, and their children – a large, tightly knit European clan.
I was wrong.
Of course, we all make assumptions when we marry, and we can't possibly anticipate how kids will impact our lives as couples, much less our careers and financial situation. But we learn quickly that compromises must be made.
Bearing children in my thirties, I didn't mind giving up traveling, though I continued to work; my spouse loved to travel, and had no intention of cutting back. He was a road warrior by choice. But over the years, I found myself falling into the category of "married single mom" and not because I wanted it that way. I wanted something else – a husband who was home more often, another parent to share the joys and dramas. I wanted partnership.
Parenting Choices
Returning to the discussion of parenting choices and feminism, I wholeheartedly believe that both men and women can be exceptional parents, and either can be the primary care-giver. I've seen it over and over; I've seen some examples of genuinely shared parenting among married couples and divorced couples. I am also well aware that men solo parent just as women do.
I also recall the 70s and 80s when the concept of a man wanting to stay home even part of the time, to care for children, held considerable stigma.
So what has feminism done for men?
What has it accomplished along with paving the way for greater numbers of women creating businesses that employ men, women physicians who provide their services, women running universities and seeking to educate our kids, women whose voices are now part of the political process?
Among other things – feminism has led us here. To this place and time. To the recognition that men can and do love their children profoundly, and are capable of raising them well.
Feminism and Femininity
Now I'll stick a dainty little toe into troublesome waters (as if the above splashing around weren't enough) – I love the inherent differences between men and women. Some is nature, some is nurture, and there's considerable range in those differences and how they play out.
I am a strong woman and a confident one, yet I consider myself feminine. That is as true today as it was thirty years ago. And I love strong men – those who are smart, funny, confident, and understand that there are few absolutes in the world, and they approach life accordingly. With an open mind.
A belief in greater access (and respect due) to the political, economic, and social power base doesn't obliterate a desire to be or feel feminine. Owning one's sexuality (rather than taking whatever is "given" in marriage) is also not unfeminine; if anything, I should think a woman who enjoys sex would make a more welcome partner to a man of like mind.
The Fear Factor
Of course, I'm making assumptions drawn from my own life, including periods spent abroad, relationships prior to marriage and after – generally in France or with French men. Those I've known, as friends or otherwise, embrace women who know their own minds and enjoy being women. And there is no fear factor at play.
But that is my experience. And I can certainly understand that anyone – male or female – who has lived with or worked for a ball buster, a control freak or narcissist (pick your term) – male or female – might think otherwise.
Still, I come back to fear. I come back to men who may fear women who say yes when they mean yes, and no when they mean no. I come back to women who may fear showing their strength because it makes them seem less "marketable" to men. And you know what? They are. We are. Or perhaps it is only true for the Baby Boomers and Gen X. What about Gen Y? What about the Millennials?
Yes, I have raised my children largely solo – but it isn't what I wanted for them, and certainly isn't what I wanted for myself.
The Future
Each of us comes to our feelings on emotional topics from personal experience. I imagine the (implied) question "What has feminism ever done for men?" comes from someone with good reason to ask, or at the very least, with his own story that forms his experience.  I'm glad the question was posed; it caused me to reflect.
As for my own future, I am nearing the end of raising children, and I'm worn out. I count my blessings; there have been helping hands when I least expected them, offered with extraordinary compassion, and my sons have been the recipients of gifts from "strangers" in ways they will never know. Moreover, despite the ongoing strain that plays out in the background, I believe my sons feel loved by two parents, albeit differently. And that is because they are loved by two parents, albeit differently.
As for my sons' views on men and women, I imagine they've seen my strength, my determination, and equally, my missteps and my vulnerability. I believe they will understand that responsibility, accountability, and honor are essential values, and that value systems, like brain power and talent, know no gender.
If they become parents, I hope they will participate fully in raising their children. They are young men with heart, curiosity, humor and perseverance. They will make strong, positive role models.
My Take-Away, Not About Taking

For myself, feminism was never about taking away from men; it was about gaining footing so we might share more with them, and also play a more determining role in our own lives.
I have known relationships in which men were unfazed by strong, feminine women (the two attributes are not mutually exclusive), and definitions of masculinity and femininity were more fluid. I also believe we have become selfish in our relationships, and have forgotten the importance of doing the hard work that is sometimes required.
I have come to accept the ongoing need for individual choice rather than male or female role-based directives. That includes understanding that gender warfare is damaging, that some men make better parents than women, that some women make better CEOs than men, and none of this precludes us from loving each other – if we would lay down the gloves, and let go of the fear.

Big Little Wolf's Daily Plate of Crazy