"What do you do for fun?" he asked.
I was taken aback. Really taken aback. I don't remember the last time anyone posed that question. And it's not unreasonable, when you're just getting to know someone.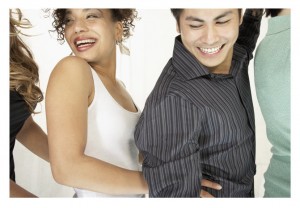 The context? A phone call – a friend of a friend sort of thing – and all very pleasant. But I was stumped. I can talk about writing, I can talk about my kids, and I can make chit chat in two languages. But it wasn't until I was asked about having fun that I realized that "fun" isn't on the agenda.
What's up with that?
As I stumbled through a faltering response, I explained that writing was a kind of contentment for me, which at least approximates fun. Realizing that made me sound like a stick in the mud, I then contemplated whether or not I actually am a stick in the mud. And once my second chick has flown the nest, will my stick in the mud habits have stuck, leaving me stuck?
How do you define fun?
So what do you consider fun? And is having fun overrated? Is it simply not high on the priority list when you're juggling work, family, and trying to make it through the day? And maybe hoping to pursue activities to improve your situation, your community, your friendships?
What about planned fun versus spontaneous fun? And with our happiness-obsessed society, do we take our intentions to find ourselves and be "present" so seriously that we miss out on fun? Sacrificed to the appearance of fun, in the guise of activities and go-go-go schedules?
And speaking of schedules, the handful of times I've tried jamming "fun" into my single parent lifestyle I've regretted it; I've enrolled in evening classes I was then too tired to attend. I've joined organizations that I haven't had time to participate in. My appetite remains; my capacity is already at maximum.
Life, as it happens

I will say I'm open to spontaneous sources of entertainment. You know. Life, as it happens – sans planning. If I can steal a small window of time to wander a bookstore, sit and have a coffee and watch the passersby, write a little bit while observing – that, to me, is fun. It may not be as exciting as hang gliding or dancing the night away in a hot new club, but it still allows for anything to happen. A chance encounter. Unexpected laughter. Taking a deep breath.
I'm still pondering the question, and a little concerned that I remain stymied. Then again, I'm probably overthinking, and this belongs in the same category – for me – as worrying about whether I'm happy. Not applicable.
So perhaps the fact that fun has been back-burnered for many years isn't an issue at all. Because in my view, good things will come when they come. And I will welcome them when they do.
Big Little Wolf's Daily Plate of Crazy