Last night I came across this – on Free Range Kids, about an incident in which the authorities were called when a mother allowed her 8-year old to play in a nearby park, alone.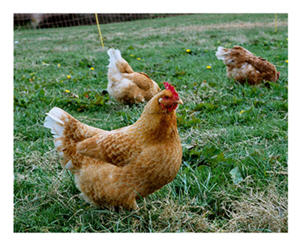 I was struck by how much has changed in a generation.
I grew up "set loose" in the afternoon after school, as long as there wasn't an activity – piano lessons, dance class – and I was expected to return home in time for dinner.
On the weekends, unsupervised time was the norm, and it was usually spent outside. We all ran freely from house to house, and playground to park.
No one kept tabs. No one worried about keeping tabs.
But the way I've raised my children is different. In this house, while free thinking reigns, free wandering does not, and never has. Free range kids? You're more likely to find free range chicken.
I read the article with mixed feelings. Regret, that the world had become a (seemingly) more dangerous place since my own childhood. Anger that the mother mentioned in the article was intimidated by the authorities. Her child was playing alone in a public park; it's not illegal and he was fine.
But I wouldn't have done it.
Childhood experiences

My ex grew up in Europe, where his family was the epitome of free range parenting. There were siblings, cousins, and the setting was a small town. Everyone knew everyone. While I may have been let loose within a half mile or even one mile radius, I imagine his radius was considerably larger.
I constantly heard horror stories from my mother (which kept me relatively close to home), and they accomplished their mission: don't talk to strangers because (x), don't cross that major street by yourself because (y), don't ride your bicycle there because (z)… You get the picture.
And naturally, when it came to the kids, my ex and I butted heads. He thought they should roam wherever they pleased and I shouldn't worry. I thought that was nuts. He also thought it was fine to leave them home alone at a younger age, at least for short periods. Again, not on my watch.
Over protective?
By the nineties when I had my children, the world had changed; certainly, our awareness of it had. The media – and milk cartons – offered up one cautionary tale after another, and most of us responded as you would expect – with greater caution.
One of my sons was talkative and intuitive. He received greater "wandering" rights though he certainly wasn't a free-range kid. I would say he was a free range teen, and I felt okay about that.
As for my younger son, I was more protective. Over protective? That's a judgment call. But let him wander anywhere – even in the neighborhood? Not on your life. He was smaller than all his friends, with his head in the clouds. He paid attention to little – not unusual for a creative kid. But he would've been an easy mark for anyone, anywhere.
As a parent, I recognized the differences in the two boys, and followed my gut. And when they were little, this was something we argued over. Their father thought they should be able to play as he did, in his European upbringing. But this wasn't Europe in the 60s or 70s, and I put my foot down. Not until I thought they were big enough – physically – to be less of a target.
Fear, in parenting
As parents, I'm not sure we know what "style" we'll adopt at different stages. I do know that my parental style varied with location, with age of the kids, and with the differences inherent in each of them. I acted and reacted at least in part out of fear; those "horror stories" planted in my head by my own mother did their trick. But so did the stories that we heard in the news, and my own experience of a few incidents with children or mothers I knew.
Fear played a healthy part in my kids being anything but free-range, because I was chicken. Utterly unwilling to take a risk with their physical safety in an age when it seems that simple things do indeed carry risk.
Parenting styles

The hallmark of my parenting style has been taking my cues from my  kids. But I admit, it has also included an inclination to keep them safe. Very safe. At least, until they were older and I believed they could handle themselves.
I don't regret the choices I made – in keeping them close (and knowing where they were). My younger son bristles when he's on the receiving end of that tendency, now, and he's right. I have to remind myself that he's older, not "little" any longer, and maturing. Rapidly.
I believe we are wired to protect our children with what we know, what we learned in our childhoods, and what we feel… whether we can articulate it or not. And we act on that, and should be allowed to do so – freely.
Are you a protective parent? An over-protective parent?
Do you have disagreements with your spouse over parenting styles?
Are you free range? Is it a function of where you live? How you were raised?


Image courtesy Flickr via Creative Commons License.


© D A Wolf
Big Little Wolf's Daily Plate of Crazy