This week, Gale at Ten Dollar Thoughts wrote about the division of responsibilities among couples – how the lines are drawn when it comes to bringing home the bacon, household chores, childcare, cooking, yard work, and more. As a long-time single parent, my view of domestic duties operates from a different perspective. I've raised my sons largely solo.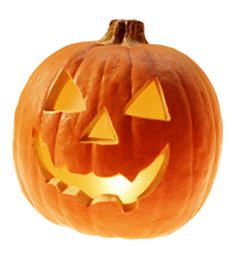 As I was reading Gale's words, I thought about the weight of the workload when it isn't shared. And of course, the little dramas, the big worries, and the abundance of joy that comes with parenting under any circumstances.
Holidays past…
There's a chill in the air, there are leaves on the ground, and who isn't pondering the upcoming holidays? This year as Halloween is upon us, a few ghosts have come calling.
My sons are teenagers. Behind us are the days of last minute costumes and hauling in Halloween loot. Like most kids, my boys couldn't wait for trick-or-treating. I rolled my eyes and tended to preparations, but it was their dad who took them trekking through the neighborhood – with their best friends and usually the other fathers.
As for me, I stayed at home – doling out chocolate to knocks, squeals, and a stream of goblins and ghouls on the doorstep.
Holidays post divorce
If you have kids, holiday headaches are many – as are the delights. But how do you split the Halloween hassles, and holiday workloads in general? And if you're divorced, how have things changed?
Are holidays tainted by anger and aggravation?
Have you mastered the art of amicable cooperation?
How do you make it "alright" for your children?
And who gets custody of Halloween?
Single parenthood comes with plenty of challenges. At the holidays, many of us struggle to do the best we can, or simply get through. It's hard on the children. Hard on the adults. Planes, trains, and automobiles replace hours of relaxation, and echoes of days gone by are inevitable for most of us.
Holiday Traditions
In our household, I was the cheerleader when it came to the holidays – the planning, the shopping, the cooking, the decorating. And I adored all of it. In particular, Thanksgiving and Christmas were a labor of love. I plunged in energetically, and we have many happy memories.
Halloween is a "biggie" to little kids. The pleasure of costumes and mischief-making, competition over who has the most goodies, and naturally… all that sugar. There is also the delight of wandering in the dark with an adult hand and a flashlight. Left to myself to deal with Thanksgiving and Christmas? I anticipated a measure of heartache. But post-divorce Halloween?
Another story.
Custody of Halloween?
The first few years after my marriage ended, we remained in the family home. I tried to hang on to it, but financially, it was untenable. Still, during those years of transition, that security felt important. The boys could still wake up in the same rooms, take the same school bus, and run next door to see friends.
As for Halloween, they joined their buddies since birth (and the other fathers), and so it was business as usual. Did they miss their dad? I imagine they did. But at least the logistics were familiar. Until they weren't.
The first few years in our new little house were difficult. I drove my boys to the old neighborhood often, and dropped them off next door to our former home. It was painful. As for Halloween, I recall heading back to meet up with their friends, and somehow we missed them. I circled in the car, and got madder and madder. I yelled. They grew sullen. The bottom line? I ruined their Halloween.
Recreating traditions
What my sons couldn't know of course, was that the anger masked my grieving – for a life that was a gone and a sort of family I could no longer provide them. I was dealing with single parent guilt. And worse, with ghosts. Not just on Halloween, but every time I drove through our old neighborhood, and by our old home.
With time, we adjust to most changes. Children adjust, adults adjust, and we settle into alternate rhythms, creating new traditions.
This Halloween, I will open the door to goblins and ghouls. The ghosts of All Hallow's Eve? Most, happily, have drifted off into the distance.  

Big Little Wolf's Daily Plate of Crazy