I could almost smell them. Lilies. Roses. Sprays of freesia.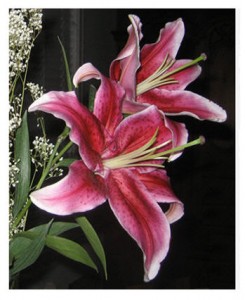 Zapping around on television last evening, I came across an old movie just as the heroine receives flowers from the man in hot pursuit. She is noticeably affected, opening the card with a dreamy smile. Her male co-workers look on with a mix of curiosity and interest.
The women? With envy.
It used to be common for men to send flowers – after a great date, for an occasion, or for no reason at all.
Does anything melt a woman's heart like a bouquet of blooms, or even a single stem?
Sure. For some of us, there are shoes. And yes, I once knew a man who (very effectively) courted me with designer footwear. (No kidding.) But really – whatever happened to flowers?
Ah yes, there is the ridiculous assumption that a man sending flowers is having an affair. At least that was the premise a few generations back, and likewise, in 1964's Rock Hudson and Doris Day film, Send Me No Flowers. Doris and Rock – do we have you to blame for the shocking lack of blossoms in contemporary dating life?
My past life. . . as a woman
Once upon a time, I had a life as a woman.
You know. Dates. Romance. Sex.
And there were tokens of affection – little notes and cards, love letters, and even flowers. Signs of wooing, and eventually, love.
In fact, the man I was seeing before I married was incredibly romantic. Money wasn't an issue and that helped. For a year, extravagant floral arrangements arrived at my office every other week or so. Each time, something different. Each time, with a card he always took the time to personally pen.
I felt adored.
But it wasn't just the flowers, or even the sentiments he wrote. He would surprise me at my apartment on a cold winter's morning, take-out coffee in hand, and bagels in a bag. No warning – just a $5 breakfast for us to share, and a smile.
My part of the equation
I wasn't without my surprises either. It was a well-balanced relationship in the ways that count. We listened to each other. We focused when we were together. Yes, he sent me flowers, and I managed a few thoughtful gifts of my own.
He had a thing for trucks, go figure. When I traveled overseas on business, I always found my way to a hobby shop, picked out a fabulous small scale model he couldn't find in the US, and brought it back.
Choosing a gift for him was about him. Something to tickle his fancy, which isn't to say that my considerable lingerie collection wasn't a source of mutual pleasure. . .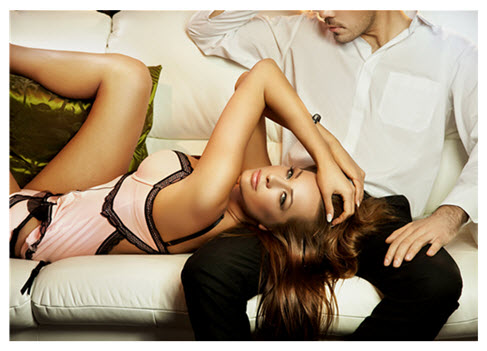 The dating scene, online (non) etiquette
I know we've all succumbed to the online dating scene, and technology short-cuts that now feel ordinary.
We Facebook (though in my experience Facebook sucks for your sex life). We text and sext. We (h)e-mail and (sh)e-mail. But we also seem to have bought into the New Order of Millennial  Commodity Dating – size 'em up fast, toss 'em aside, buck up for the next (there will always be another), and don't worry about protocol like a proper goodbye much less hello.
Do people still stumble upon each other and meet?
Do friends make introductions?
Does the workplace offer any (reasonable) options?
Has traditional dating disappeared, along with manners?
The Love Biz
Sure, I'm mingling several topics together: online dating, drawbacks of impersonal communications, balance in relationships, a general disregard for the romantic in all of us.
Still, I wonder if this mish-mash of monetized meet-and-greet is worsened by the odd legacy of post Doris-and-Rock, post 80s-Glitz feminism. Is it the dissatisfying glop of role confusion, lack of consideration, and a generally unromantic space in which we're expected to pair up, mate, and some years later, move on. . . to. . . nothing?
Think about it. The Love Biz. It's more than an online intro, a few drinks, hopping in and out of bed, then "next."
Shouldn't there be slow coffees over which you listen and interact, and dare I say it – look at each other rather than your iPods and Blackberrys? Aren't there movies to see, books to discuss, softball games to enjoy, and the FTD florist just a flick of the PDA away?
The power of the flower
Any Real Men out there? Hello? Might there be a romantic bone in your body?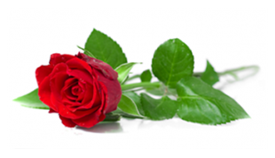 No, not that one. I said romantic.
Because if there is, I'm here to tell you there are wonderful women waiting for small gestures, as simple and powerful as the one in that film last night.
All it takes is a few stems from Whole Foods, or the guy selling roses at rush hour. It's a classic move and a classy one.
Go on. Give it a shot. Rock would do it, and the Doris in most of us would love it. And appreciate you all the more for the gesture.
You May Also Enjoy
Big Little Wolf's Daily Plate of Crazy