"Tell me about yourself," he says.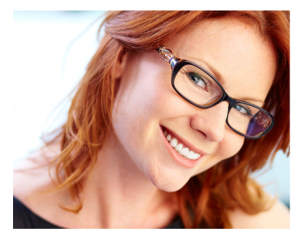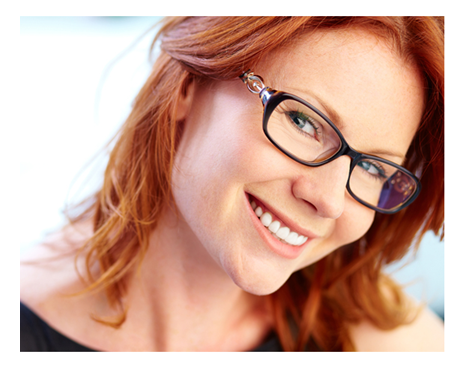 You're at an interview, or a cocktail party. Maybe you're on a first date. It's a common question and intentionally open-ended. So how do you answer?
Do you provide your name, some indication of where you're from or where you live, followed by a thumbnail sketch of what you've accomplished? Or do you stick to labels that are readily recognized, albeit inexact?
For example, I might say: My name is D. A. Wolf. I'm a writer and a marketer. But does that tell you anything of significance, really, about who I am?
Maybe you take a more narrative approach, or one that is more personal:
I'm a writer, I collect art, I lived in Europe several times, traveling back and forth for years. I loved living abroad, not to mention taking my children with me on occasion. By the way, I have two sons and I'm divorced. One of my sons is in college, and the other is in high school.
This provides a friendlier mix, doesn't it? Something about my past, my family, and what interests me. Assumptions can be made. They could be wrong, but a few will land you in the ballpark. Still, what insight has any of this provided?
Self Portrait
Last month my 17-year old was assigned a project. A self portrait.
As an art student, self portraits are old hat. His portfolio is filled with them, as is our home. The mediums have varied, and each resembles my son, or rather, some facet of him. My two favorites (framed and on the walls) capture something more of who he is – inside – which is what we respond to in the most successful portraiture. An essence.
Given that my son wants to become an architect, his assignment was to create a self portrait building – about three feet long and two feet tall. I will not recap the countless sleep-deprived nights and other dramas over this particular undertaking. Let's just say, my house looks like the kid's personal design studio, with stacks and trails of board, pieces of plexi, fragments of foam core, and other signs of an intensive ongoing process.
This morning when I woke, he was checking the finishing touches on his work, after another long night.
I saw him in it, immediately. No narrative, all essence.
Narrative, Personality, Character
How easy it is to wear the public face. Or several. It's useful, and necessary. We seem to learn young – describing ourselves by the roles we perform, the jobs we get paid for, the places we've been: the quantifiable, the classifiable, the self-evident.
We make heavy use of the socially acceptable. Narrative and personality. We tell our stories. We charm with humor and body language, with behaviors we deem desirable and appropriate.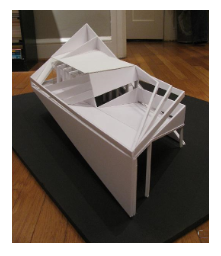 But when does character begin to reveal itself? How many of us make friends, fall in love, give our trust, assume it in the other – without truly knowing the character of the individual we're dealing with?
If left to narrative and personality, do we ever really get inside?

What we reveal to others, and how
It's so like you, I say, as we drive to school.
"You seem to be the only one who thinks so," my son replies.
What do you mean?
"The instructor thought it should show the years I spent drawing. It should show my humor. Maybe other influences, like piano."
I thought for a moment. About self portraits. What his was telling me. What structures were still to come.
For now, there were triangles everywhere, in positive and negative space. They ripple through each view, conveying meaning (or so I suspect) that extends beyond his trio of interests – art, architecture, and music.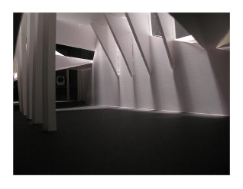 It's completely you, I say. The lines move in one direction, then shoot off in another, and you look again and realize they're interrelated. You created parallels and references everywhere, but no symmetries, and nothing obvious.

My son nods.
There are masses of window, I say, but also wall. Transparency and obscurity.

"Exactly."
You're a bit of a mystery, I say. He smiles, and we drive the rest of the way to school in the quiet. A peaceful quiet, for a change.
Interiors
There are several entries into my son's self portrait building, but they aren't obvious. That, along with its jutting angles, its repetitive linear patterns, its combination of complex elements and very simple ones – all form purposeful choices, documented as part of the project.
Once inside the structure, the space is larger than you expect. Rooms seem to shift and reconfigure as light flows through windows cut into roof, and running along the top edge of walls. The building rises to three stories at one end. That noticeable harmony of threes.
This is my son: the evolving interior, its unanticipated capacity, a contrast of light and dark, the potential for sudden change in mood – solid, complicated, clever – simultaneously open and closed. And yes, pieced together and well protected by walls, though you can peer in and enter – if you move around carefully and take your time.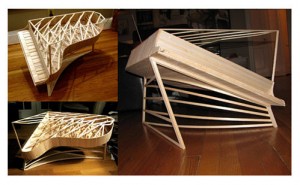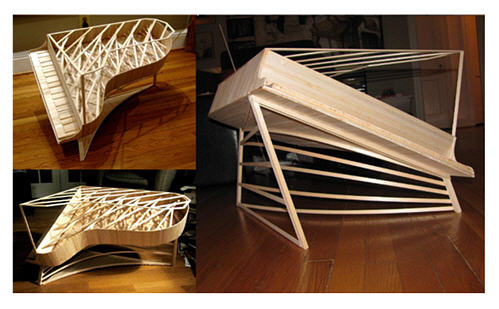 It is his character and nature reduced to an essence, at this still tender stage in his life.
This is not autobiography, though a flicker of it shines here and there. Perhaps I am the only one who recognizes that. If so, it's fine. And I think it's fine with my son. He knows who he is and what he wants. Just like his building. A self portrait.
Tell me about yourself
When someone says Tell me about yourself, how do you respond?
Do you consider the intention of the person inquiring?
Do you use label, credentials, narrative?
Do you deflect with personality?
Are you comfortable behind the assumptions?
I am a writer, I am a mother, and so much more. Some of it I will reveal. Some of it, I will not. Perhaps my son and I are more alike than I realized. Until this morning.
Big Little Wolf's Daily Plate of Crazy