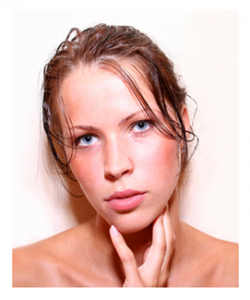 I should have watched reruns all night. Or old films on cable. But I didn't. Instead, I tossed and turned, dozed a little, then finally gave up as 4 a.m. approached. I'm a challenged sleeper at best, but last night was rough, even for me.
A typical day
Yesterday was a fairly typical day. In fact, it was a good day. I accomplished everything on my checklist. I ate well. I took a walk after dinner.
So what was different?
There was a casual conversation in which I was asked about family. I mentioned my mother's passing, which I now realize triggered a chain of thoughts before bed, including the fact that my mother's birthday is next week.
Turning into your mother
What woman doesn't worry – at least occasionally – about becoming her mother?
Most of my adult life has been guided by a single principle – to not turn into my mother. I've long been aware of her destructive talents, her narcissism, and the bitterness that eventually soured everything in her life.
Growing up, I saw her pain, her beauty, and her wasted potential. I watched her use food as anesthesia, obesity as a fortress to keep the world at bay, and in so doing, herself, a prisoner.
Who said that?
It's been a strange, enervating summer. And I feel "off." I don't know if it's the extensive time alone (unusual), the inevitable signs of (middle) aging, or the activities of these past months – sorting through papers and photographs that have led me on a bumpy emotional journey.
I do know it was my mother's voice and words that tumbled out of my mouth a week ago, on the telephone. Her brusque tone, and a regional expression I haven't heard in 30 years, much less used. Worse, when I look in the mirror lately, I don't see me. I've gained 5 pounds, and while I know this is psychological trickery, it's my mother who seems to be gazing back.
Am I my mother?
Cruising the internet for comprehension (or commiseration), I came up with a recent article in Psychology Today. Apparently it's common to resort to a parent's words, and to perceive a parent's image in the mirror, though we know better.
According to Psychology Today:
. . . we are programmed to develop through interactions with others. This is why early parental behavior has such an impact on our psyches – parents and siblings are the main people that most infants and toddlers interact with. This internal programming is also one of the reasons we can change over the course of our lives – interactions with friends, teachers, other relatives and lovers can all teach our brain new patterns, which can alter our relationships and our sense of self.
Why now?
We're all programmed by experience – early childhood and otherwise. Fine. I get it.
But after a lifetime of explicit choices that are different from my mother's, why do I suddenly feel myself living out her life? In her body? Why now? Yes, I'm divorced and without a partner as was she at my age. Yes, I have financial challenges as did she. But my parenting couldn't be more different, the relationship with my sons – solid and respectful. Likewise, my choice in men (when given the opportunity) – the opposite of my mother's preferences.
Moreover, I resemble my father. Yet I see her when I look in the mirror, and that undermines my confidence, my well-being, my faith in the future, and the core of my separate self.
Psychology Today goes on to explain:
According to neuroscientists, our neurons seek familiar paths, especially when we are in a stressful situation.
My life has fluttered in the red zone for nine years. This summer is no more stressful than any other time. So is this aging? Solitude? Part of navigating another reinvention? Or have papers and snapshots lit a landing strip through my brain where pathways were better off in the dark?
Are you your mother?
I know that I am not my mother, and what remains of my life needn't resemble hers. Yet I can't shake the fear that it might. And that's anything but a story with a happy ending.
Do you ever look in the mirror and see your mother?
Do you hear yourself speaking words imprinted in childhood?
Will our beginnings always come back to bite us?
Big Little Wolf's Daily Plate of Crazy