"It's just a tree," I tell myself.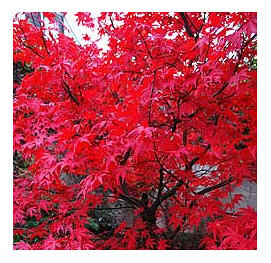 But each day as I stare at it, poke at the dirt, stubbornly water the skeletal form, I know it's more than a tree. It's a connective thread – history holding the past to the present, and the present to the possibility of a future.
It is hope. And I don't want it to be dead.
Reaching and climbing
What child doesn't love to climb a tree? To feel the exertion of stretching, of reaching higher, of perching on a limb, and gleefully surveying whatever is around?
For years I watched my little boys climb an old Japanese maple. They loved that tree, with its branches low enough to the ground for a manageable climb, and cradling them as they went higher and higher with each season, and their own longer limbs.
Shortly before we left our family home, the tree had seedlings. And so we dug up three, tenderly, when they were barely three inches high. We planted them in tiny pots, and transported them to our new house.
Surviving change
New environments are never easy. Adults bring perspective and other coping skills to unwanted change, and as parents, we focus on the transitions our children must make. Perhaps that saves us from the worst of our own pain, which isn't deeper, so much as it is more specific.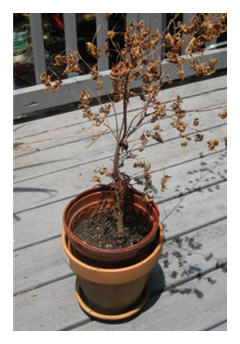 After all, adults can articulate feelings. Kids can't. Instead they rely on whatever healing we can provide – our arms and our singing, our routines and our presence, familiarity as we paint it, the new histories we will construct, together.
Two of the seedlings didn't make it. But one did, toughing out the change and growing steadily these past six years. I have watched it, nurtured it, transplanted it, moved it around, watered it. Loved it, like a child.
When trouble comes
I first noticed three weeks ago. It seemed burned by the heat, literally overnight. And I've wept like a damn fool over such an insignificant thing compared to everything else there is to manage. Over a small dead tree, as I refuse to accept that it's over.
I brought it inside for 10 days. I added new soil. I placed it back in the sunlight when the temperatures cooled. Now I water it, move it around, and wait, trying to will it back to life, to convince myself that it's only resting, that somewhere inside, work is work being done to enable it to survive.
"It's just a tree," I tell myself again. "Give it up."
But I can't. Perhaps that's the child in me. Or the mother.
Fighting acceptance
Life goes on with its usual rhythms; there are my sons and their adventures, my organization project and its slow progress, my writing, like a daily vitamin.
And I return to the tree each morning and each night. In it, I see the other tree, the mother, my sons in her arms as little boys. I know they will reach and climb, now long past trees. But I am smaller. I face narrowing options. I fight acceptance.
New growth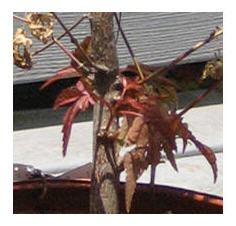 I look at the tree and know that my parenting job is changing, dramatically.
I look at the tree and know that I need to move past it, that I must find acceptance of what is beyond my control – inevitable evolution of roles, of bodies, of circumstances.
"It's just a tree," I tell myself. But I keep watering, I keep checking, I keep waiting.
This morning, at the base of the thin trunk, I saw a cluster of small red-brown leaves. I am at a loss, and cautiously optimistic. I don't know why, or how, and I don't need to know. Maybe there's something to be said for willfulness. For refusing to accept that growth isn't still possible.

Big Little Wolf's Daily Plate of Crazy