It's Father's Day. The first thing I did when I woke was go straight to the small framed Polaroid of my dad and me, taken on the last day I saw him. Father's Day, nearly 25 years ago. There are a handful of other images tucked away. But that one, of the two of us, is special.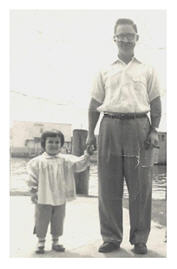 My mother is gone as well. She passed away in her sleep, some five years back.
The period following each loss found me at dramatically different stages in life. When my father died, I was single and in the upswing of a long corporate career,  living in a different part of the country. I was young and vital and healthy. My dad and I had only recently built a relationship as father and daughter in the three years that followed his split with my mother. He had remarried – as it turns out, a woman he'd loved for many years.
Because we'd had little relationship previously (and because my mother was a difficult woman to love), I was open to whatever we might create together. And my dad went out of his way to get to know me, and to invite me into the happiness of his new life and his new home.
The situation infuriated my mother (which I understand), but her love came with a price, and was frequently more hurtful than anything else. She was a woman who failed to thrive, and in so doing, suffocated those closest to her. Even an adult child seeks parental love – love without anger, love with compassion. Love that knows appropriate boundaries of disclosure and privacy. That's exactly what I got from my dad, although it came when he was in his fifties.
Years later, after my own divorce, I can better appreciate my mother's position. But her dealings with me were toxic; what I shared with my father was something else entirely.
I hadn't known my dad before that, except through the lens of my mother's invective which began two decades prior to ending their marriage. I was glad to get to know him, which made the loss when he died more wrenching, of course, and every Father's Day without my dad since – a private place of sorrow. But it is also a source of gratitude for the time we had.
When my mother passed away, she was much older. The endless, twisted, unpredictable emotional hoops she made me jump through as a child and adolescent had returned with a vengeance in the last years of her life, affecting not only me, but my children. And as a parent, my perspective had changed. I was stunned at her malignant acting out, against her own child.
After her death, I thought I would be able to make sense of her, to answer the "why" that had plagued me since I was a teenager. Going through her things, there were only more pieces of a confusing puzzle: more proof of her potential, her betrayals, and her vulnerability. There were snapshots of a strikingly beautiful woman, books that showed her fine intelligence and broad interests, the trail of accumulated objects that evoked an era – costume jewelry from the 60s, clunky pendants from the 70s, pearls which she loved, hatpins she'd picked up in antique shops. There were letters, written late in life, and never mailed. Words that illuminated her sadness.
If I learned anything from the loss of my father and mother, it is this: no one can ever truly know their parents. And nor should we. There are sacred private spaces in each of us, including those experienced with family, partners, and even strangers.
As we journey from childhood through adolescence and into adulthood, we come to know our parents' imperfections, some of their motivations, and ideally we recognize they are individuals, usually well-intentioned, who loved us as best they could. When we become parents ourselves, their behaviors make more sense (or less), but we comprehend the necessity and inevitability of an incomplete picture.
I hope my sons know the depth of my love for them, and yes, to some extent, the sacrifices. Yet I don't ever want them to feel guilty for what I chose to give up in order to parent them properly. And so I will honor my father's way of loving when he finally felt free enough to do so – imperfectly, unconditionally, and joyfully. Respecting the role of parent and child, and appropriate boundaries that serve everyone's best interests.
Big Little Wolf's Daily Plate of Crazy