Guerrilla Artist

By her own words, artist Lavanna Martin stares at people. At times  she refers to herself as a "Guerrilla Artist," setting up in one of several local coffee shops in Austin, Texas. A possible subject of interest catches her attention, and she creates a quick portrait – a sketch or painting – achieving more than a likeness, but an essence of the individual.
When I stumbled across Lavanna's story, I was intrigued. I could relate to her need to escape four walls, to work from life in the midst of it, while remaining unobtrusive in doing so. Those who recreate the world – on the canvas or the page – need to participate in it, even if from the sidelines.
Not only do I admire this artist's work, but her process: I can only imagine the initial discomfort of packing up supplies, heading out the door, and feeling her way into the role of Guerrilla Artist.
It's worth noting that Lavanna generally works freehand, on the spot, and without her subjects realizing. This is certainly not all that Lavanna does, but the spontaneity and speed required in this challenging process yield compelling results.
I invite you to explore her site and her work. Not only does she paint and sketch, but she adds text to accompany her portraits. It is illuminating and enjoyable to read.
Guerrilla Writer
As a writer, I've been struggling with issues of inspiration, needing a change of pace and location. Leaving town isn't logistically possible very often, but that doesn't mean I need to remain inside my house either. While I have a store of experiences to tap into, these days, they feel insufficient. And I've been thinking about Lavanna for some time, wanting to borrow a page from her (sketch) book, and hoping to become an occasional "Guerrilla Writer."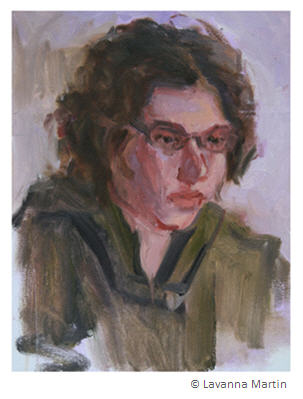 Doesn't the imagination need care and feeding? Don't we write from life, taking mental notes and snapshots to provide the expressive details that transform our narratives into lively prose?
Lavanna started close to home at first. So did I, last week, which is how I found myself Friday evening at a neighborhood bar with notebook and pen in hand, surrounded by interesting characters…
We'll see how my forays into the larger world progress, and what might bubble onto these pages for discussion, or simply as quick verbal sketches. Don't we all need the opportunity for interesting encounters? To stretch ourselves – creatively and socially? To observe as well as to participate, pushing the boundaries of our comfort zones?

Big Little Wolf's Daily Plate of Crazy