Do you believe you can change? Do you want to change – if not in a major way, then subtly – for instant gratification or something more enduring?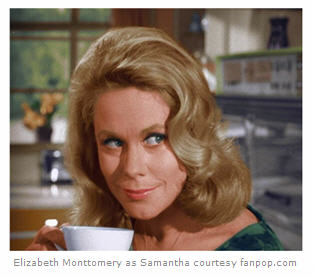 Let's see. There's my messy kitchen. My disastrous closets. Oh yes, I can think of a few things I'd like to change. May I borrow from the classics of American Pop Culture to illustrate?
For instance, I could wiggle my nose à la Samantha in Bewitched, and my little home would magically manifest in clutter-free and organized fashion. No dishes in the sink! No laundry piles! No stacks of books and papers to trip over! Or, better still, I could blink emphatically (I Dream of Jeannie) and POOF! Two inches taller. (I dare not wish for more, lest I have to alter my personality – drastically.) And speaking of personality. . .
May we consider a recent lesson in (pop) culture psychology and attitudes? Do you mind?
Pop culture lessons
I hate to quote from Realty TV so soon after, well… talking about Reality TV, but, if the Louboutin fits. And this tidbit struck me like a brick on the back of the head. It's just too good. Or too horrible, depending on your viewpoint.
The scene: Thursday night, Bravo TV, the aftermath of attempting to put the pieces of a friendship back together.
Jill Zaren to Bethenny Frankel:
"We can get past this."
Bethenny to Jill:
"Well you have a lot of changing to do."
Jill to Bethenny:
"I can't change. I am who I am."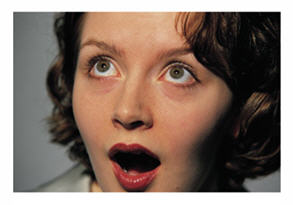 Me: Mouth agape, credits rolling on the season finale. Shock. Okay, make that shock and awe. Does this woman ever listen to herself? Does anyone who says "I can't change" actually hear what he or she is saying?
Real life, real women, real men
Some people genuinely believe they are incapable of change. I am not one of them. I believe we are constantly in a state of flux – and capable of great change, as well as evolution.
When I hear anyone profess (proudly?) that they cannot change, I am dumbfounded. Knowing who you are and what you are is one thing. But refusing the possibility of change?
I may need to de-clutter my kitchen, but what about those who need a cleanup consultant for their misconceptions? I concede that we all possess an inherent nature, but can't we learn to recognize hurtful or self-sabotaging behaviors? Don't we wield some power of choice over who we are?
Clean up our words?
Sure. We all drag through days when we don't think before we speak. When stress, sleep deprivation – and yes – empty pizza boxes on the counter – all combine to conspire against our better judgment. We shoot our mouths off in carelessness. We say stupid things. And then realize it.
In the example of "I can't change," could this be emotional resistance with a side of hubris? A defense mechanism masking "I won't change," or "I'm afraid to change?"
Personality pretzels?
I'm not suggesting that we turn ourselves into pretzels to become what others expect. I do believe that incessant interpersonal problems indicate time for introspection, a good therapist, or hitting REPLAY and paying attention to what comes out of your mouth. Then, with or without Samantha, Jeannie, or video editing, I'd cook up a personality pinch here and an attitude alteration there.
Do you listen to what you say?
Do you try to perceive yourself as others might?
Do you believe that people can change?

Big Little Wolf's Daily Plate of Crazy
…