Reality, shmeality. . . it's entertainment! And it's June! And that means two new Reality TV shows are on the horizon. More precisely, they're about to be sprung loose, on June 9 (Work of Art: America's Next Great Artist) and June 10 (Bethenny's Getting Married).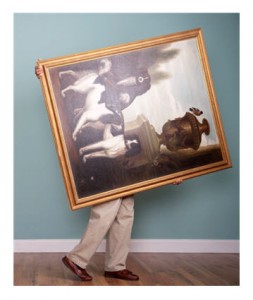 It's fabulous enough for Real Housewives of New York fans that tonight is the season finale, but we can soon look forward to Bethenny Frankel in her own show.
As for Work of Art – an ambitious venture from Sarah Jessica Parker and Bravo TV – it promises to be something different from the usual Reality TV fare. Or does it?
Real Housewives of New York
For Real Housewife addicts, tonight's previews include a (final?) showdown between frenemies Jill and Bethenny, not to mention Ramona's wedding renewal extravaganza. There's sure to be drama, lots of mouthing off, and phenomenal fashions.
Naturally, I'll be watching, wearing my New York State of Mind, popcorn at the ready. But how will I ever get through summer without more glued-and-crude viewing?
Fortunately, we RHNY fans will not be left to squirm in withdrawal, as Bravo TV heats up our Thursday evenings with their Bethenny spin-off. I have no doubts that this fast-talking and feisty phenom can carry her own show, with her call-it-like-she-sees-it wit, and whatever shenanigans may ensue.
Yes, we know she's married now. Yes, baby Bryn has safely arrived on scene. But we love Bethenny – and some of us can't wait for more.
The reality of the art world?
As for the debut of Work of Art, referred to last year as The Untitled Art Project, controversy began brewing as soon as the public got wind of it, or should I say, as soon as the various stakeholders in America's art world stuck their palate knives into this  sticky wicket.
Theoretically patterned after Project Runway or Top Chef, can fine art undergo the same sort of competitive reality scenarios as fashion or cuisine? I remain ambivalent – hopeful, yet lamenting that those of us who are passionate about art have come to this.
Can this venture possibly do good? Put a chink in the walls of the elitist art world mystique? Reduce barriers to entry – if not entry for artists – than to comprehension for the average Joe? But does the average Joe (the Plumber or otherwise) give a damn about art? Especially when he is trying to juggle the mortgage, the Kroger bill, the cost of braces for Joe Junior?
The subject of fine art is tough to tackle in any venue. But on Reality TV? Be still my Lee Krasner-loving heart, and someone – please pass the Pepto.
Jerry Saltz and Simon de Pury
To my surprise, this particular competition-exploitation will include well known critic Jerry Saltz as judge, and as mentor, Simon de Pury, of the legendary auction house Phillips de Pury & Company. Heavy hitters indeed.
As for Jerry Saltz (and as one who reads art criticism), I've enjoyed his writing for years, even if I don't necessarily agree with his assessments. But he isn't known for pulling punches. Shall we expect the likes of devilish digs à la British food critic Toby Young on Top Chef, whose commentary often left our salivating mouths agape? And while clever and cutting hikes up ratings, it's abysmal for the creative spirits on the receiving end. It's painful enough to read harsh reviews – but stand tall and take it, on national television?
How to look at contemporary art
Lindsey at Design so Vast recently wrote eloquently about "The Artist is Present," a performance work by Marina Abramovic, at New York's Museum of Modern Art. Abramovic sits, and simply looks – genuinely looks – at whomever sits facing her. She doesn't speak, nor does she look away. Apparently, the experience of silence – and connection – is extraordinarily moving. The psychological dynamics of this sort of interaction and attachment were further explored by Bruce at Privilege of Parenting.
Is this art?
Some would say no. Others would say yes. Point of fact – performance art and conceptual art (yes, they overlap) are among two of the more contentious arenas to define or appreciate.
Work of art, or disaster waiting to happen?
Will Work of Art open our eyes by helping us learn how to look at contemporary art – whether an abstract painting, an assemblage sculpture, or performance? Will the producers teach us anything? Make art more approachable, and our ways of seeing, more discerning?
It's problematic. Art is subjective (though not entirely); artspeak is elitist (let us hope they leave the $10 words at the door); art historical references are nonetheless helpful in understanding the reach and measure of accomplishment. It is also true that the more we learn to see – to see differently – the more we may find in a work of art that otherwise would not move us.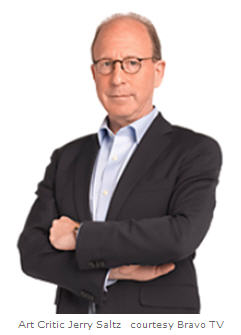 At best – I know the show will entertain, but it could also inform, demystify to some extent, and provide starting points for how to approach contemporary art in a country that tends to steer clear of it. That could take place courtesy of the critic-judges serving an educational role rather than an entirely ego-driven one.
An unlikely prospect? Possibly. But then, Work of Art is itself unlikely – the intersection (or collision?) of two worlds I would never have thought to see on television.
Watch what happens?
Is fine art part of your life, or do you prefer your diversions frothy or filled with gossip? Is it possible to slip the American public a secret side of education with a main course of mindless entertainment?
Will you be following either of these shows?
Can Reality TV be educational?
You know I'll be watching. Ouch. Did I just admit I'm adding two more reality TV shows to my eyes-in-the-back-of-my-head viewing habits?