Sex and the City 2. Thumbs up or thumbs down?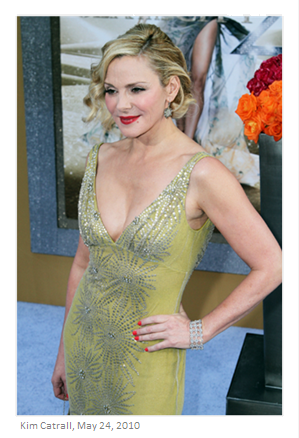 I'll leave it to the experts with their proclamations of yeah or nay. And I will repeat what I said after viewing the movie. I was delighted to spend a few hours with Carrie, Samantha, Charlotte, Miranda and the gang.
Yet I was disappointed.
I'll echo the promotional promise of the film: fun, fashion, and friendship. I'm an avid fan, but summer fluff though this is – with no pretense of being anything else – the film falls flat on every dimension.
We were doused with too much and underwhelmed with not enough: Too much "fun" (without New York), too much fashion (the head swims); too little of the friendship that we love among these women. And by the way – if there was a storyline at all – at best, it was Morse Code.
Add in too much (caricatured) exotic locale, too much running from the recession, and far too much pretending that time doesn't catch up with all of us.
Too much fashion?
Is it possible to be bored by what the Fabulous Four are wearing? Hardly. But blinded is another matter. Might I say "vertigo" when it comes to the whirlwind pace of costume changes? Add in the excessive Arabian Nights-themed wardrobe, and we've passed from fanciful to ridiculous.
The designer who's who? It reads like the list of luminaries we would expect – Yves Saint Laurent, Chanel, Dior, and Cavalli – and shots of shoes flash signature soles of ruby red (Louboutin). As much as I appreciate unconventional couture, there is so much here that we hardly have the time to blink before the next concoction appears on the screen.
Does that mean there isn't couture to covet in this film? Not at all. But I compare SATC 2 to the first movie, in which fashion played a major role and the results were spectacular. Time enough (on screen) to appreciate, and more than enough to salivate over.
But this go-round? We may have to purchase the DVD when it comes out and hit pause frequently – in order to process. (Given the overloaded product placement in this film, one wonders if that's one more commercial possibility purposely planted.)
One of my favorite fashion statements in the film? The much publicized and quirky J'adore Dior t-shirt paired with a bouffant and whimsical skirt. Not only does it seem suitable to the Carrie character, but it remains in view long enough for the retina to do more than scan and say "next."
Fun?
Too much fun? Fun at all?
Yes and no. While the producers cooked up Abu Dhabi to lure us to a setting where excess would seem palatable in recessionary times, neither the thin plot twists nor tidbits of conversation come close to qualifying as fun.
A camel ride in the desert, with man-servants who bring multiple wardrobe changes along? Fun? Not so much.
Samantha in trouble for her proudly sexual appetites in a culture that disallows overt acts of affection? Fun? Not so much.
Discussion between Miranda and Charlotte about the difficulties of motherhood? A good moment – insufficiently plumbed.
Carrie and Aidan's encounter? Again, not enough.
The wedding scene? Over-the-top – but yes, fun.
The 80s flashbacks when the women met? Not fun. I would've preferred voice over to the (mortifying) visuals.
As for Carrie and Big? There were genuine moments dealing with marriage, with potential to offer us a glimpse into a maturing relationship. I would have liked more of these scenes. They felt authentic to the characters, to their age, to their imperfections, while honoring both the series and the first follow-up film.
Girls may "just want to have fun," but therein lies part of the problem. The girls aren't girls any longer. They're mature women. We could have enjoyed a supremely satisfying experience if we'd been given women having fun, rather than women trying to be girls having fun.
Friendship
No one has to convince us these women are soul mates. It's in the dialogue (unnecessarily), and we share a decade long history. But in this extravaganza, we could have used more coffee shop and less Abu Dhabi. We see little of the heart of the series – the friendships among Carrie, Samantha, Miranda, and Charlotte – or for that matter, the development of their familial relationships. The exception? A handful of fine moments between Carrie and Big.
While many disliked the first movie, I found it to be far superior to this chaotic confection. While too serious for some, it had a plot, as well as compassionate exchanges among the characters which were not cut short for yet another romp in wild wardrobe.  Sex and the City 2 offers opportunities for poignant discussion: Charlotte's insecurity about her marriage and motherhood, Carrie's confusion over what comes after "I do," Samantha muscling her way through menopause, and more. Flickers of authenticity. Sparked, then ignored.
The Samantha Effect (A cougar by any other name?)
As for Samantha, I'm all for a woman of any age wearing what she pleases and owning her sexuality. However, had the script adopted a more European approach to a woman aging gracefully, I believe we would have been less embarrassed, and possibly enlightened.
Older woman-younger man relationships are nothing unusual; we've simply turned a spotlight on them in recent years, with a distasteful label to match: Cougar, along with the notion that a woman with money who enjoys fit and sexual (younger) men is somehow predatory.
The scenes of Samantha successfully sizzling as seductress are not believable – even for the SATC Candy Land in which we willingly "suspend disbelief." There is no mutual spark, no connection of any sort, and I find myself embarrassed. This is a character who is nothing if not smart; at 52, she would have learned to get what she wants with a slightly different – dare I say, European – approach. More "total woman" of which sexuality is a healthy component, and less blatant come on, which simply no longer works.
A rekindling with Smith Jarrett? That could have provided an interesting diversion. Sam's Danish architect? Again, a bit of Euro-smolder would have served up more simmer and less silliness. Instead, we get old Samantha, well… seeming old. And yes, like a Cougar. Not only does it pain me to say it, but it irritates me immeasurably that SJP and writers alike would toss away the opportunity to show us a smart, sexual, beautiful woman in her fifties who can rock it – with a bit more subtlety.
Reviews of Sex and the City 2
Generally, the reviews haven't been good.
The film has been panned for all sorts of reasons. Among them: the flagrant excess of product placement to which I alluded earlier, lack of plot, anti-Muslim sentiment, and dissatisfaction with the messages of female identity and feminism, slamming the handling of Miranda's work-life balance struggles, and the precarious no-woman's-land of married last names.
I agree that the variety of identity issues present potentially fertile ground for funny and intelligent fodder for the audience. And once again, missed opportunities. That said, I found the work-life conflict, last name dilemmas, and motherhood or mother-not moments to be among the more authentic in the movie, however superficially addressed.
I also found myself moved by several scenes between Carrie and Big, finessed with a nod to the series, as well as the situation in which these characters find themselves in 2010. There simply weren't enough of these genuine interactions. And that's a shame.
Ready for a Sex and the City 3?
Would I be up for a Sex and the City 3?
Of course. But with more mature handling, and yes, perhaps with a European twist to women aging magnificently, but honestly.
Did the movie live up to my expectations? No. It lacked the whimsy, spirit, and tenderness of the series. Moreover, we could have done with less desert and more New York. Yet one article I skimmed this morning nets it out for me, suggesting that the reviews are irrelevant. I agree. The bottom line? We're happy to be with these women, under any circumstances.

Image of Kim Catrall, editorial use, purchased via Bigstockphoto. Debby Wong, May 24, 2010, Sex and the City 2 Premiere.
You May Also Enjoy