Hey. That Momalom thing.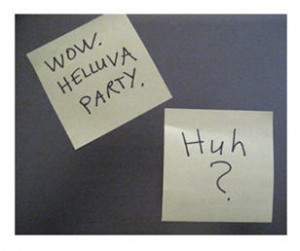 You know. Two babes. Writers. Sisters. A little… um… wacky. Because who reads and comments on more than 100 blogs over the course of 10 days, each day?
Who is so inspiring (or nuts) they entice 100 others to do the same?
And I don't mean Blah-g Blah-g Blah-g, either. I mean real stuff. The good stuff.  Funny F-bomb family stuff. Topics of interest for reading, for ruminating, for remembering.
Read. Write. Grow community.
Why would anyone – much less so many readers and writers who are busy parenting – be crazy enough to do such a thing?
Ah yes – the beauty and bounty of blogging. Writing community. Reading, learning, thinking. Growing. Discovering. Amazing new places, new minds, new ways to string together words. The privilege of virtual vision – and visions. Even those pesky and poignant bad mommy moments.
Post-it posts? Read write cycle?
But ten days?
That's a lot of writing, reading, commenting. Then posting. Then more reading, commenting, writing. About essentials in each life. Courage of the everyday sort. Memories of departure.
Happiness, lust, and the many types of YES. Yes to everything. The power of YES. Yes to NO to achieve yes. Yes, to fairy tales. To our stories. To ourselves.
YES to the writer's mammoth task of musing and mining.
Blog burnout.
And now? Now that it's over – until next time?
Words wander, a little hungover. The eyes glaze. Kids walk by their parents and shake their heads. A little bewildered. A little miffed. Moms mutter about deserted islands, palm trees, coconut milk spiked with something. Anything. Even if it's just a tiny paper umbrella. Or a swizzle stick.
YES indeed. Dinners are requested. YES to the ten handed over to a teen to take the car and make a junk food run, though The Kitch Witch may offer luscious alternatives.
YES to no cooking, as a tapped-out maternal finger points silently to the freezer, then the microwave. Writing is hard work. Marathon writing? Brain cells falter. The body slumps. Burnout. Kind of like ten all-nighters. But cooler.
No (wo)man is an island?
What's next? To recover?
There's that island thing. You know, the benefits of a break. Beaches, without Bette Midler. Tropical sun, with proper SPF. Silenced keyboards, even if only for a few hours. Eye drops for the burning and squinting. Rest, for the calloused heels of palms and weary fingers.
For Sarah and Jen? Kisses. Thanks. Hopes for sleep.
Though more than likely, not. More than likely, parenting. More parenting. And for all of us, working and parenting. And then, more writing more writing more writing. More reading. More finger pointing – to the lists, the homework, the briefcase, the school lunches. And yes, the microwave. Maybe one more night. TGIF.
May I say that again?
YES, to TGIF.
Kisses to Sarah and Jen and Five-for-Ten Again.

Big Little Wolf's Daily Plate of Crazy