European vacation on the horizon?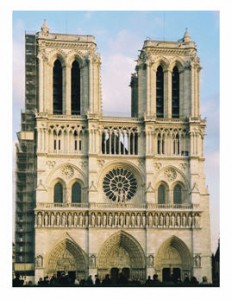 Are you making summer plans? Is Europe in your future?
Packing light takes planning – and practice. For 20 years I crossed the Atlantic on a regular basis for business and pleasure.
Mostly, I traveled to France, but also Belgium, the Netherlands, and Switzerland. I learned to pack as well for Paris as for a séjour in the South of France, and to do so for everything from a three-day visit to a more extended stay. In fact once, I managed three months in Paris on a single medium-sized suitcase – and did just fine!
If you're traveling to Europe in winter, there's no question it's more challenging. But we're headed into Spring / Summer travel season, so it should be easy! And here are 10 handy tips to help you pack smartly.
10 tips to pack for Paris: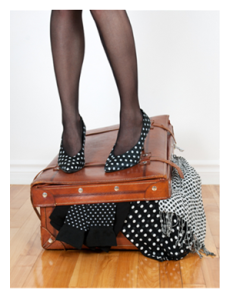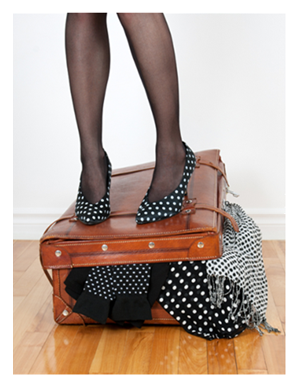 Whether you're headed to Paris, to Brittany, to the Mediterranean, or to other parts of Europe, the fundamentals remain the same. In general, consider things that are layered, light, mix and match, and don't forget a small umbrella! Here are more specifics, from my experience:
Include a fold-up tote in your luggage, so you can bring back goodies.
Stick to basics and neutrals, e.g. one or two skirts, pants, jeans, shorts, and four tops that work with everything. Think layering, and a jacket or sweater for cool nights.
Get your variety from accessories, e.g. scarves, bracelets, earrings, your favorite pair of heavenly heels, one great (small) purse.
Prepare for the unexpected, but be realistic. Do you really need your work-out clothes? Will you actually be attending the opera?
There's likely no need for a hairdryer (your host will have one, or the hotel will). But remember a voltage converter kit for any appliances you do bring.
Comfortable shoes for walking are a must. (And don't forget those socks and underwear.)
Leave your finest things at home unless you're staying in someone's house, or in a hotel with a safe. Otherwise, you're advertising "rob me."
Once you've packed, count all the variations. Make sure you have the number of days required covered, plus three. Flights can be delayed, or you may fall madly in love and never leave!
Once packed, remove everything and rethink. Reduce your load by 20% to 25%. In doing this, you reassess and coordinate more efficiently.
Anything of value or critical importance should be placed in a carry-on (laptop, prescriptions, one sexy underthing).
Think all that's impossible? It's not. I've done it! Headed for somewhere warm and tropical? Make room for the bathing suits, and take advantage of your lighter weight fabrics. And remember to include at least one pair of fabulous heels for dancing under the stars – wherever you may be!