Accessory (after the fact?)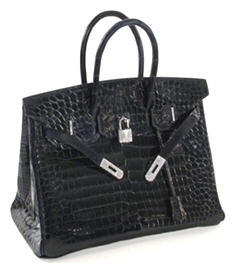 No, this is not my bag.
Chic, isn't it? But pas moi. However, I was asked awhile back to divulge the characteristics and contents of my purse. May I say that I would like to do so with perspicacity? May I add that this request comes with a bit of a conundrum?
I am not a woman of a single style, nor a single purse. Not even close – on either topic. So how do I comply with this request, with the desire to play the game, to reveal myself through my assorted stylish sacks of "stuff" while dealing with the reality that my reality may not be a typical reality?
Let's process this, shall we? Judiciously. Meticulously. And yes, conspicuously. But what does it say if rather than one purse of elegance and quality, I actually possess about twenty purses, and I routinely rotate three or four? Might this signal a problem, or is it simply an interpretation of a fashionable (and movable) feast? Especially for a woman who travels – albeit lately only in her dreams?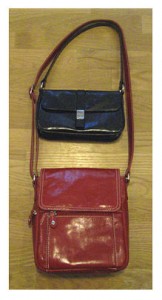 In my case, clearly, I must take a somewhat different route, yet if the purse fits… I shall nonetheless stick to perspicacity in my approach, while simultaneously turning to Purse Pick a City.
My City of Residence:



I currently offer you two bags for the price of one, neither of which is a "name." I shop anywhere and everywhere – from street vendors in the Paris Marais to the 70% sale at Bloomingdale's or Nordstroms. DSW and Ross are always worth a quick cruise-and-peruse, and I've found many treasures at both locales. As I take inventory, there seem to be several bags from Nine West.
Yes, a twofer. I'm a purse and tote woman. My everyday purse? Currently, a black shoulder bag, rather nondescript, purchased on sale, goes with anything, and overstuffed. It's spring, and I need to switch this out with something lighter in color, but this purse has hung in like a trooper, crammed with an oversized wallet, makeup, paper, pens, mints, Excedrin, two kinds of lip gloss, and who knows what else.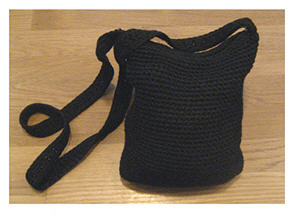 (No, I dare not empty it out entirely!) My preference is always a shoulder bag; I want my hands free, and as an urban warrior, a strap over the head and chest makes the purse harder to snatch.
Then there's the tote. I have several – large – these days a gorgeous leather weave in an odd shade of deep red wine (a DSW steal). It does its duty admirably, holding papers, my laptop, cables, magazines, folders, makeup, pens, a bottle of water and other "stuff."
As for the cell phone? In the cleavage, or a pocket.
New York (when I am fortunate enough to visit):
I go funky for the Village, and more upscale if I manage a night out. Function and style. And any of the purses you see here might do it. As for what's inside? The usual, but also a camera. Contents typically include Chanel, Dior, Lancome and Nars makeup (small sized), pens and paper (frequently small grid French notebooks), breath mints, lip gloss, some variation of ibuprofen, and of course money and the all-important Parisian metro tickets. Even if I'm in New York City.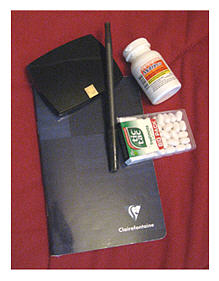 For dress, a clutch I purchased in Paris years ago is a favorite, that I continue to use it in the US as it goes with almost any neutral, and its metallic surface accessorizes with gold or silver. It is small, holds little (thus the cleavage trick for overflow), and it makes me feel beautiful – no doubt linked to memories from a particular séjour on the other side of the Atlantic. A love affair, and one I shall not forget.
I have another tiny bag, black, (pictured with the red bag above), which works with almost anything, and gets use for the occasional evening out.
San Francisco Style:
Once again, I go with the large tote-of-the-moment, and one of several smaller bags (as above).
The last time I was in the City by the Bay, in addition to my everyday bag I brazenly brought a beautiful red leather shoulder bag with wonderful details (studs and zippers). It was a high-end purse picked up on sale, and it has enough sheen to work with a pair of sexy red patent stiletto peep-toe sling backs. Mmmm. More fond memories. Of San Francisco.
Is there a theme? Mais oui! I am a woman who wants choices, who knows how to find a great deal, and how to pack efficiently. I bring interchangeable separates in neutrals, and usually one jolt of color – red, violet, blue or green. In clothing, and accessories.
Paris Paris Paris: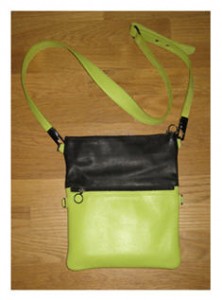 For Paris, since my visits in the past years have been to see friends, to walk miles, to attend art openings and exhibitions, I go for a combination of practical and chic. So my Paris bag (again) is a tote, sometimes a tote within a tote. Whatever I'm using for a carry-on likely holds my laptop as well as a small purse, but I pack a fabulous Liz Claiborne fold-up bag which I picked up for a song. When opened, it's quite large and hauls all kinds of fierce and frivolous fun, and in Paris, that's everything from laptop, magazines, small notebooks and pens to a scarf, a change of shoes, and sexy lingerie.
A regular purse I love in Paris, or New York, or anywhere else? This green and black I've used everywhere – colorful and practical – and admittedly an expensive leather and suede bag, Italian, discovered during seasonal soldes (sales) in the South of France a number of years ago.
Souvenirs of my continuing journey:
As for the contents? Ah, they made me smile when I peeked. A combination of (sweet) French memories, and (equally sweet) more recent, local usage:
A snapshot of my former French beau
A dozen or so business cards (yes, they're in French and English)
A ticket stub from the Top 10% Honors Banquet (my older son, 2 years ago)
Two cards from art galleries
One Bic pen, black
One book of matches from my favorite local French bistro
Five dollar bill tucked in a zipper pocket
Tweezers (in the same zipper pocket)
Assorted change (Euros), floating in the bottom
And while we're at it, (hoping that Linda at Bar Mitzvahzilla will indulge me, as she made the initial purse show-and-tell request) – how about a few tips on how to pack for overseas travel? All in the interest of perspicacity?
How to pack for overseas travel:
For twenty years I crossed the Atlantic on a regular basis, and I learned to pack well and light for as much as a week-long stay. In fact once, I managed three months in Paris on a single medium-sized suitcase – and did just fine!
I will say, if you're traveling overseas in winter, it's more challenging, but possible.
Tips for packing efficiently for overseas travel:
A fold-up tote you can pack, and use to bring back goodies. (Come on. You know you want to.)
Stick to basic items that will mix well. Two skirts, one pair of pants, good jeans, four tops that work with everything, two or three camisoles or sleeveless numbers you can layer, one jacket or sweater. (If you're a pants person, more trousers than skirts.)
Get your variety from accessories that weigh little and take up little room, for example two scarves, a few bracelets, a hot belt, your favorite pair of heavenly heels and a great purse.
Prepare for the unexpected, but be realistic. Do you really need your work-out clothes?  Will you actually be attending the opera?
Plenty of underwear. (You don't want to worry about wash when you're traveling.)
Generally no need for a hairdryer (your host will have one, or the hotel will).
A converter kit for any appliances you do bring.
Comfortable shoes for walking. (Yes, I really did say that.)
None of your "finest" things unless you're staying in someone's home, or a hotel with a safe – and your planned activities really call for it. Otherwise, you're advertising "rob me." (Just my opinion.)
Once you've packed, count all the variations and see how many days you've covered. It should be the planned trip, and about three extra days. (You never know. Flights can be delayed. You can fall madly in love and want to stay longer.)
Then take everything out, rethink, and eliminate 25%. You want room to bring things back with you.
You should still be able to count outfits, but now that you've repacked, you've coordinated more efficiently.
Anything of value or critical importance should be in a carry-on (laptop, prescriptions, one sexy underthing).
Think all that's impossible? Nope. I've done it. Plenty of times. But you may have to leave a purse or two behind. Or in my case, the three pair of hot heels that I'd like take.


© D A Wolf

Big Little Wolf's Daily Plate of Crazy