A few days ago, Amber at Making the Moments Count wrote about her growing discomfort leading up to attending a social function.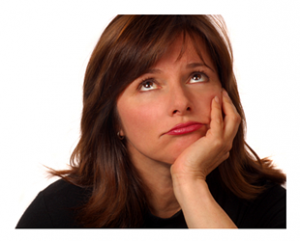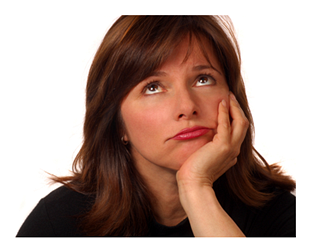 I could certainly empathize. Particularly in my 20s, socializing for work or pleasure was often accompanied by major worrying beforehand. With time and practice, I learned to observe, to take the temperature of a room, to get others talking, and to shmooze.
Easy? Nope.
But practice makes perfect!
By my 30s, I was much more comfortable socializing in a business setting, but it was still difficult in personal settings, particularly large groups.
View from the 20th century
As for the term "social anxiety," it wasn't prevalent in the 80s or 90s. (We seem to have a name or a disorder for everything these days, along with well marketed pharmaceuticals to manage it. But that's a another discussion.)
Of course there are cases on the far end of the behavioral spectrum, but most of us, at one point or another, have felt extreme and persistent social anxiety of exactly the sort that Amber described. We've felt it painfully, often manifesting itself physically. And we either bow out of our social obligations, or tough it out (as Amber did) and attend.
Dare I say that we used to call this shyness – or even extreme shyness?
How do you break the ice at a social function?
Some of us go straight to the bar for liquid courage when faced with a crowd of strangers. If handled in moderation, that may be just the ticket. We hang on to one drink, nurse it, and relax enough to ease into conversation with less anxiety.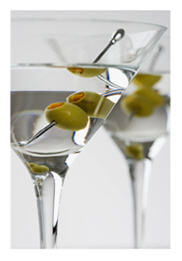 But if you tend to go overboard, or lining up the martinis risks embarrassment in front of the boss, potential clients, friends, or dates, you'd better have a few other ideas in store. Besides, alcohol may not be an option because you have kids in tow, it may be a coffee function, you're driving, or you simply might not care to drink.
Then what? How do you overcome the discomfort, the fact that you're breaking out in a sweat, that you're stomach is in knots and you're feeling a little lightheaded? How do you stop yourself from running for the proverbial hills?
Can we ever really overcome shyness?
Necessity is the mother of invention
Necessity is the mother of the invention. I've always loved that expression. It isn't until we're forced into a challenging situation that we learn how to deal with it. And we keep learning – over and over – as many times as it takes to master our lessons.
Fear of socializing in large groups is a common problem. Who wouldn't want a slew of tricks to break the ice in a large group? I'm no expert, but as a formerly shrimpy, geeky, socially inept and overweight person (okay, I'm still shrimpy), somewhere along the way I learned a few things. I had to. I couldn't have managed in my career otherwise. And once at ease with people, my extrovert tendencies flow more freely.
Now, I couldn't change my height (yes, there are those great heels… ) but as for the rest? Each was something that could be altered. And stature has nothing to do with height. But putting together all the pieces took me until my 30s to figure out. Admittedly, the times I lived in France helped, enormously – in finding a style, learning to speak with confidence, and generally, feeling confident.
Necessity is the mother of invention, remember? I began to force myself into social situations. Practiced. Over time, I improved, or at the very least, I was more comfortable with the discomfort.
And the Girl Scout motto doesn't hurt
What else? The Girl Scout motto: be prepared. And here's what I mean by that.
Know the sort of people who will be attending, even generally
Have a few standby topics of discussion
A handful of opening questions help (most people love to talk about themselves)
Practice the art of listening.
There are many resources on the web that offer tips on breaking the ice – in social settings, romantic encounters, professional environments, icebreakers for trainers leading a class or presentation. Check some of them out. Games are often recommended in a training context (I've personally found them to work). And why not in a casual context as well?
Learn some appropriate, open questions to get others talking. And remember that a good listener is rare. You can stand out or simply enjoy yourself, by listening well, and interacting in a thoughtful way.
Laughter as an icebreaker
Amber went on to mention that she has another function to attend, and she's already anxious. I suggested she pop by her local Five and Dime, and pick up some party favors like funky plastic sunglasses or Groucho glasses (you know the ones – black frames, big nose, mustache). She could get one for herself, or pick up several, as ice breakers, then pull  them out, put them on, offer them to a few people and see what happens. And then write about it.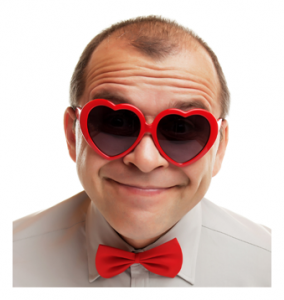 My suggestion may have sounded cavalier, but I didn't intend it that way. Public speakers know that breaking the ice may involve being amusing, engaging, thoughtful, or surprising. You don't have to be a stand-up comic, or even know how to tell a joke. And goofy glasses aren't appropriate for every occasion!
You need to learn to read the room, and discern what may be suitable. Then you can work the room as needed.
As for a casual social gathering over brunch, why not something a little bit silly to loosen things up? Why are we afraid to show our quirkier or more vulnerable selves in public settings? Why do we get tongue-tied and self-conscious? And isn't it interesting that some of us inhabit strong voices in our writing, yet hang on to our fears in person?
I wonder about that one. Do we feel safer behind the screen? Less likely to be judged by appearance, voice, accent, height, weight, age, attire or other signs of social status?
Here, on the virtual page, do we all possess stature?
Have you found the perfect opener?
In a business setting? For purely social gatherings?
Are we all shy, or socially anxious, in certain instances?
You May Also Enjoy