Super Bowl Sunday – an American institution?
So how did Super Bowl Sunday get to be such an institution?  Are you planning your day around TV football pre-game shows, prepping in the kitchen with traditional family finger foods and a passel of neighbors stopping by for the evening?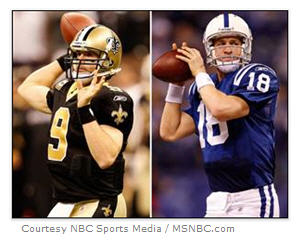 Are you out at your favorite sports bar with friends for the night? Will you be watching the most expensive prime time television commercials with interest or indifference, including the controversial Tim Tebow anti-abortion spot?
Sports writer Mike Celizic contends that the Super Bowl is the greatest one-day event in the history of the world (or MSNBC has very able hedline writers), and perhaps he has it right. The Super Bowl is not the greatest sporting event – but it is a monumental event American-style, complete with big name half-time entertainment, hot-hottie-hot cheerleaders, and an excuse to party in the dead of winter.
Cultural traditions
I've always thought of football as a gang of gladiators on each side, powerful and determined, gutting it out in a war of gore and grit on slippery fields in the worst possible seasons. Mud, snow, bitter cold. To be frank, it isn't my sport. I attended the requisite Thanksgiving football game in high school, shut my eyes in horror as young men would slam into each other or finish in a traffic pile up just shy of the goal line. But I confess I'm grateful that my testosterone household has always been relatively football free. That doesn't mean sports free, but we watched tennis, soccer, Olympic sports. I also admit I was an NBA basketball junkie in my thirties, and I am a woman who loves baseball… movies.
Super Bowl parties
There's no question that Super Bowl Sunday is about much more than a championship. It's a rowdy gathering at the local sports bar, or a family evening built around visiting and viewing, a day with tailgate parties even if they're cooked up inside (given that it's February!), and it's all about tradition. In my mind, it's associated with Labor Day picnics, Fourth of July fireworks, and shares the quintessentially American, larger than life aura of celebration. Even in a non-football household.
Man Teens



It's Sunday morning. There is at least one extra man-teen sleeping in the house (yes, another impromptu teenage party, and I believe teenagers should have parties in spite of their parents). My sons have never been especially interested in football (one cycles, the other plays tennis), but they have enjoyed rooting for their high school soccer and football teams. They've attended games, to support their school and socialize. And there's no question that any sport – participating or spectating – teaches lessons about discipline, perseverance, teamwork, and competition. And let's face it – football is always an excuse to party!
Man Cave Land and Big Game Recipes



So I'm searching recipe sites for finger foods to enjoy this evening, just in case.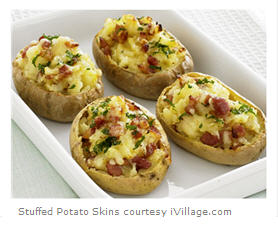 Buffalo wings (and blue cheese dipping sauce) may be traditional, but honeyed chicken wings are my preference, with stuffed potato skins. As for dessert, I may consider coconut oatmeal bars, or scrounge in my baking drawer and concoct something of my own.
Meanwhile, I'm sure my friend's husband (with the Man Cave) will be in all his glory this evening, enjoying his football-friendly space where his Louisiana colors surely mean a gathering around the big screen TV.
Just another day? For me, more or less. But if this evening brings another gathering of teenagers, I'll try my hand at a few recipes, and then retreat to my bedroom. I won't watch the game in entirety, but I may peek at the goings-on. As much for the commercials as the action, and because even in a non-football household, it isn't quite "just another day."

© D A Wolf