This week's devastating earthquake in Haiti makes our day-to-day troubles seem trivial, or even irrelevant. We may continue with "life as usual" though most of us wonder what we can do to help. So, we contribute what we can to the American Red Cross or other disaster relief funds.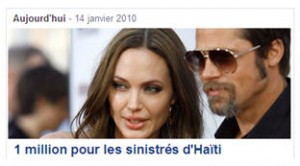 As with all catastrophic events, the numbers are mind-boggling, and difficult to process. Unless you have family members or friends in the Haitian community, the horror of it seems distant. But it is no less a horror.
Celebrities get our attention
Enter the celebrities. And for the better. I was reading yahoo.fr (French Yahoo) last evening, and saw a feature on Brad Pitt and Angelina Jolie, who are reportedly donating 1 million euros (approximately $1.4 million) to relief efforts.
Celebrities have deeper pockets and broader reach than the average Joe. They also have immediate impact in a strangely personal way for many – recognizable faces that catch our attention. When that's put to good use, I applaud their efforts.
Corporations – Google, MasterCard, American Express and others are also stepping up to the plate with major donations – and quickly.
To see a response beyond the individual, from individuals as well as corporate good citizenship, is encouraging to those of us who still believe we are one human community.
How to help

Even a small donation goes a long way when large numbers step in. Keep in mind – as easy as it is to donate online – do so smartly. Remember that all Internet transactions need to be checked out first, made with due diligence,  including donations of this sort. Scams are easily proliferated via Twitter and quickly crafted sites; verify the legitimacy of the organization before you give. Or donate via an established organization like the Red Cross, Unicef, or CARE. You want to give, not be taken.
Links that may be of assistance: