Timing is everything
You miss the commuter train by 5 minutes. There's another 30 minutes later, but now you're hurrying and anxious; you have a first date this evening. You leave the station, heading for home, take a turn too quickly, and blow your tire on a curb. You never make it to the date, and you never manage to reschedule. You're out a few hundred for the tow and the new tire. And you wonder.
* * *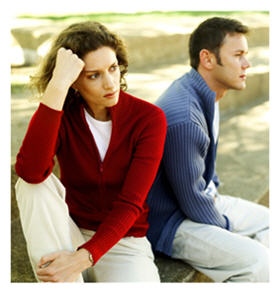 You said "I love you," and he said "me, too." You talked about moving in together – his idea – but then he dropped it, and you thought maybe it's better that way. Blended families, complications of older parents in another city. Work, money, life spilling over. You drift apart. And you wonder.
* * *
The lanky musician with wild hair was your secret crush in high school, but you never said a word. Ten years later, you run into him on the street and then chat over a cocktail. He says: "You know, I wanted to ask you out ten years ago. But I wasn't confident enough to really talk with you, and I thought you weren't interested." He takes out his wallet and proudly shows off his wife and baby daughter, and you wonder.
Can a Relationship Do-Over Work?
Sometimes star-crossed lovers find each other again years later. Sometimes divorced couples remarry. Stormy relationships in a cycle of break-ups and reuniting may eventually quiet; at a different stage of life, they form more stable unions.
We hear plenty of tales of second chances at love, a sort of relationship redo. Is it just the stuff of movie plots or popular fiction? Are these tales urban legend?
Do we actually get relationship do-overs? Karmic opportunities that make up for those that were missed based on timing, maturity, or circumstances? Can people change on their own in ways that make relationships succeed years later where they didn't previously?
Risking Relationship Round Two
An old boyfriend got in touch not long ago. We had drifted apart, having once enjoyed a truly lovely relationship.
We were a yes for each other, and through difficult times; then we floated in a haze of maybe, and found ourselves in a presumed no. At the time, we had insurmountable logistical challenges – money, kids, and other constraints – the typical issues that come with life after divorce. There were also differences in nature and desire, some that were problematic, which I set aside. Eventually, those bedroom issues weighed heavily when it came to the maybe, and the ultimate no.
But without question, there was love. Full-on, believe-in-each-other love. At one point, I would've moved my share of mountains so we might be together. Is rekindling possible under these circumstances? Can you refashion passion? What if you can find the love, but not the heat?
We stayed in touch; we ran into each other in the past year. And then, a few months ago, the phone call that gently proposed we consider picking up where we left off. All the children were older. We knew each other well, trusted each other – and could even help each other in this difficult economy by pooling resources (and living together).
Pragmatism or Love? Second Chance or Settling?
What was once a relationship with intimacy, trust, shared habit, and love is now in the past. For me, it was a lovely past, but something I put away on a shelf, in a private place of memory.
Start up again? Is it tempting in some ways and impossible in others? Sure – the thought of falling into something known and comfortable has appeal. And practical aspects for both of us. We're both older, in a way more isolated. We know and trust each other. But is that enough?
Do you believe that a relationship re-do is possible?
Would you "settle" for companionship?
What if it were friendship, trust + occasional benefits?
How much of our lives comes down to timing?
You May Also Enjoy