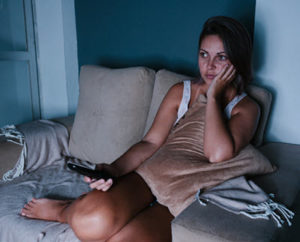 The exact phrase I read this morning was "fit of morning pique." But I've heard and read this reference to a fiercely flappable former reality TV star far too frequently, especially in recent months.
I tell myself to step away from the flat screen, to boycott the news for a day or two, to cease perusing my feeds.
Dismay is one thing, but giving in to ignorance and denial is another; hardly a recipe for responsible adults in a complicated, often frightening world.
Listen… television, like social media, can be toxic. Stepping away now and then is advisable. But there are some who don't seem able to do exactly this. One person in particular. And I can only recommend that instead of turning to cable news first thing in the morning, he should try picking up a briefing, a favorite book, kissing his spouse, talking with his child.
No doubt, his very precious, very impressionable child.
Here's the thing. Children are watching. Children are listening. Children are learning.
And I have fits of morning pique, too.
I'm piqued when I wake, when I feel pain that I cannot afford to address as well as I could with a fatter wallet (and proper health care). I'm piqued when as soon as I am fully conscious, usually at 5 a.m., I start running numbers in my head on what I have to live on, my next direction to take in order to cobble together an income as a woman now well past 50 (too old to be hired but still too young for social security). I'm piqued — appalled, really — when I read international news on my pre-dawn feeds and cannot even imagine the devastation in Iraq, in Syria, the children being starved in Yemen.
I'm piqued when I realize that tweets subvert coverage on all of this, including how a congressman is doing, one whose views on numerous issues bear no resemblance to my own, yet I think we want to know how he is faring after a terrifying attack that took place only two weeks ago.
I'm piqued by misogyny, misogyny not only expressed in words in a tweetstorm, but fully apparent in the way people "talk" to one another on the Internet, not to mention in foundational ways in our corporations, our academic institutions, and in legislation — or threats of legislation — that represent a sustained assault on women's rights, our bodies, our ability to survive.
I am sickened that fine young men who have grown up with my sons must live their lives looking over their shoulders; we know this is a country that is dangerous for young men of color.
I am fearful for those I love in the LGBTQ community, still the target of discrimation, bullying, and violence.
I am flummoxed by the income inequality that grows by leaps and bounds; I am deeply worried by regulations put in place to protect our health and the health of our planet, rolled back as we are distracted over a petulant president's perceptions of personal slights; I am anxious over the inevitable ripple effects of a fragile ego (and his loose lips), now a major player on a troubled world stage.
Facts matter. Judgment matters. Credibility matters. These are essential to leadership. And let's not forget: As the saying goes, nature abhors a vacuum.
I have other sources of irritation, concern, embarrassment. These are just a few. I say as much recognizing the complexity of the issues that we face in this country. Clearly, there are issues that may seem too large for any one of us to grapple with in a significant way. Isn't this all the more reason to pursue those behaviors that are within our control? Those that are simple to identify, to grasp, to manage?
Civilization. Civility. The former requires respect for the latter. And both rely on a third: civil discourse.
The president's engagement in personal feuds? Really? Is this the job? Is this what my tax dollars are paying for him to do?
It's inexplicable, senseless, mortifying. The way in which he engages? Jaw-dropping. And while it's reassuring to see the "adults in the room" with the integrity to stand up and take exception to the most recent despicable exchange, both Republicans and Democrats, I'm saddened that out of 435 members of congress, only three dozen or so spoke out publicly.
Yes, we have more pressing worries, which is precisely the point. But I remain more than "piqued" by an apparent absence of moral leadership that is illustrated over and over, this being only a small sliver of that. And as a woman — an American woman — I am disgusted and increasingly embarrassed.
You May Also Enjoy