Here is my own Rx for what ails me: one seasonal smile (at least) a day.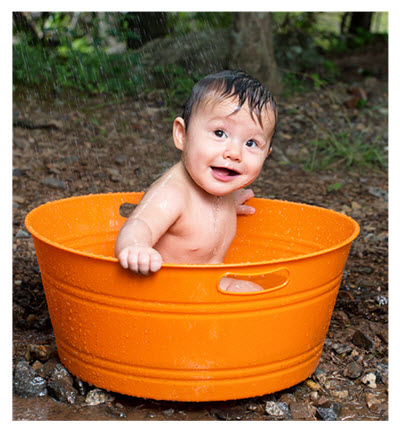 My choice for a sunny October afternoon?
This pixie face in a glowing orange tub gets my vote. What about you? What makes you smile on a bad day?
The people who populate my life know I've been running a little ragged recently. While my work is unaffected, my mood is another story. Beyond the usual stress, chronic pain has its hooks into me. Big time.
The good news of course — I'm addressing it with physical therapy, and I'm pleased to know that eventually I will feel better. The bad news, at least for now — That doesn't alter the facts of my days: I wake in pain, I work through pain, my exercise is limited, I go to sleep in pain, I struggle to fall asleep and stay asleep, because of pain.
Pain is exhausting. Pain can turn you inward. Pain darkens your personality, your outlook, your interactions.
Now, I'm not talking about this to say "look at me." If anything, I'm not in a very sociable frame of mind and I'd rather chat or write about anything except myself. I'm dull, dull, dull at the moment and in need of LOTS of distraction… well, distraction that doesn't require much movement, that is.
And for those out there who may be struggling themselves a bit — albeit counting their blessings (as I am) — please know that we can still find one seasonal smile a day, or so I would like to believe!
What helps everything, any time at all?
For me, my sons calling (whatever the reason), along with gorgeous art, gorgeous shoes, gorgeous shoes as art, and the face of a child, smiling.
Earlier today, a very nice man (busy digging his thumbs into parts of my knotted body) showed me a photograph of his 15-month old daughter. Smile worthy! Such a sweet little girl, and she was gazing at her dad in the picture. As I looked, I felt my entire body relax.
So here's what I'm thinking. I know that I'm in need of all the sources of seasonal smiles I can get. Doesn't everyone have times in life like that? Don't you take comfort and find perspective in certain images and activities?
I would love for us to share our seasonal smiles now and then.
The picture above certainly delivers for me.
What brings a smile to your lips? A place? A melody? Your favorite meal? The laughter of your children or grandchildren? Your partner giving you a knowing a look? Some special memory?
You May Also Enjoy