People tell us who they are. We really need to listen. People show us who they are. We need to pay attention. When we're young, these are lessons we haven't learned. When we're in love — whatever our age — these are lessons we ignore.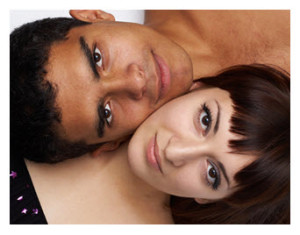 And shouldn't.
Years ago, I was in a relationship that began easily, though with a certain amount of caution on my part. I wasn't a kid and nor was he; I had learned the advantages of taking one's time. However, it was difficult to hold back… He was deliciously interesting and terribly funny. I knew his family (that gave me peace of mind), and things were smooth sailing between us right from the start.
I let my guard down.
Having had his share of complications in the past, he'd made a concerted effort to avoid any tricky emotional or logistical encumbrances. And he said to me: "I want my life to be simple. I want to be happy. If things get too complicated, then I'm out."
With those words, he told me who he was. I listened. But as weeks turned into months and our mutual affection blossomed, I fell in love — hard.
I set my listening aside.
When Are We Most Truthful in Relationships?
On occasion, I've wondered when we are most ourselves in relationships — our most truthful. It may be a pointless question, but as we settle into familiarity and cozy comfort with the ones we love after two years or five or ten, do they know us intimately — really? Or are we simply more accustomed to allowing both our worst and our best to be seen?
In my tale of a past love, the gentleman's statements of self-knowledge and intent were crystal clear. And, he made them within the first few weeks of our knowing each other. I point out the timing because it went beyond the first or second meeting when a desire to impress may obscure reality, or for that matter, the awkwardness of social anxiety could be kicking in.
Besides, we can have a sense of who someone is based on early impressions, but how many of us are entirely ourselves when chemistry colors our judgment? Aren't we often our "best selves" and tucking away the warts (and insecurities) until we know what's what? Aren't we smart to reveal ourselves bit by bit, and as much as possible, in a fairly equal exchange?
Ah… Body Language
Naturally, the experienced observer pays attention to body language as well as what is said. The art of reading people is subtle; it involves more than our language and our pauses, and must take into account eye contact, stance, gesture, touch and so on — not just with us but others as well — all forming a more complete picture.
And let's not forget behavior. Not only do people tell us who they are, they certainly show us.
As I consider this younger chapter in my love life, I can't help but think of women who fall for men who say they don't want children, and the women tell themselves "they'll change their minds." Some do. Some don't. Perhaps it would be better to believe what we are told.
Recalling the times I plunged into the online dating world — always an adventure — it took me awhile before I realized that if a man describes himself as "a simple guy" — I ought to believe him! And I don't especially enjoy simple people, though I would indeed enjoy a simpler life, which is far different from a 'simple' one, even as we must agree that both are open to broad interpretation.
Women Who Make No Bones About Transactional Relationships
During the years I was married, I had a friend who was a gorgeous single mother of two. With the polished appearance of success, she nonetheless struggled to make ends meet, living one of those all too familiar tales of a financially comfortable ex who managed to duck his child support obligations.
She worked hard, she juggled, and she was charmingly direct about the qualifications required of any man who wished to court her.
Comments like "Honey, you can't afford me," or "if he isn't well off, forget it" may have been delivered with a lilt in her tone and a stunning smile, but she was expressing exactly who she was at the time. More precisely, she was acting out of her reality and options as she saw them. She accounted for her assets and liabilities, and sought to capitalize on the former (while she could) in order to reduce the latter.
She may have married for love when she was young, but as time went on, she increasingly acted on the belief that relationships are transactional. Put more euphemistically, isn't this the old adage that "it's as easy to fall in love with a rich man as a poor one?"
Character, Values
Most of us possess elements of character that we are proud of, and if given to introspection, we recognize elements of character in ourselves that may be less than shining. Life has a way of presenting scenarios that are not black and white, and as we muddle through the greys of survival, we tweak our values and justify our choices. Some of us convince ourselves that 'hey, he got his, so now, no matter what, I'm going to get mine.'
That 'mine' may appear benign, particularly if we term it 'personal happiness,' which we seem to take as a passe-partout for a breadth of behaviors not acceptable 20 years ago, yet very much so today.
Though I am troubled by this viewpoint, I get it.
I understand the 'life is short' urgency that seeps into our awareness, especially if we see more years behind us than ahead.
Choices Aren't Always Easy
Looking back on the period when I allowed myself to fall for someone who plainly told me who he was — wanting 'simple,' and ultimately putting his own happiness before all else (which doesn't mean my happiness wasn't a consideration) — I hope I learned a hard lesson. Now older and wiser, I have a better understanding of the sacrifices, compromises, and stresses that arise in relationships that are burdened with the complexities of blended families, financial strain, health concerns, aging elders, grueling work schedules and the like. I also know the rewards of a rich, profound, meaningful connection.
While I wouldn't walk away from a terrific (albeit complex) relationship myself, I certainly recognize that many people would, and that is their choice.
This is not judgment; there was honesty in both examples I have offered. And in the experience I draw from my own life, had I heeded my lover's words early in our relationship, I would have missed out on moments I remember fondly. But I would also have avoided significant heartache, because people tell us who they are, and we really need to listen.
You May Also Enjoy